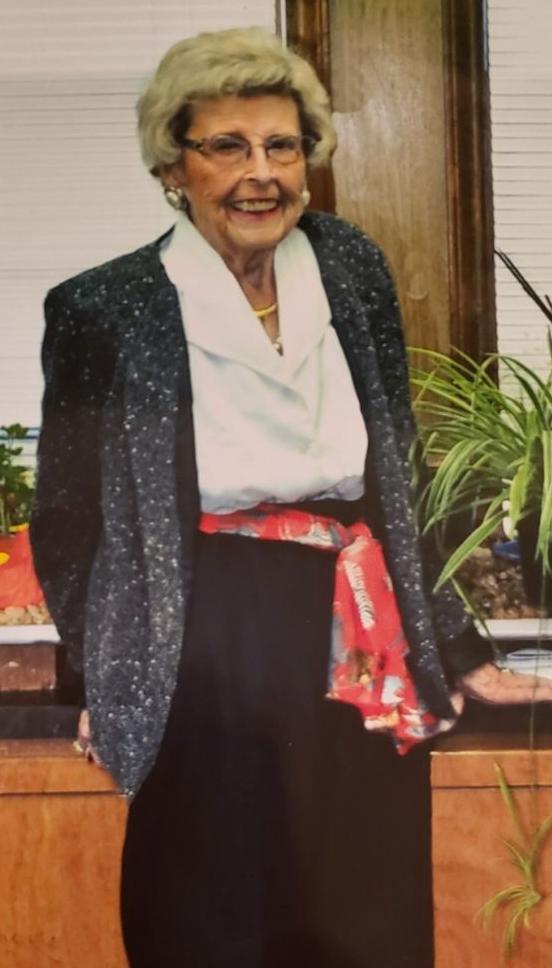 Nancy Bradshaw, who died Saturday at the age of 87, is remembered as a trailblazer in a field dominated by men, whose friendly exterior hid a core of steel.
She also was a leader of the Horsepasture community and an accomplished horticulturist.
Bradshaw was the president of Triangle Electric Corporation and the first woman in Virginia to become a Certified Master Electrician.
The Horsepasture company has 26 employees, said her son, Charlie Bradshaw.
It also has had through the years vegetables and flowers growing around its property, which is next to Nancy Bradshaw's home. She was a Master Gardener whose lush gardens were a result of organic practices — and she always was giving away vegetables and flowers.
Her husband, Aubrey Bradshaw, was working for Appalachian Power when he started Triangle Electric in the late 1950s or early 1960s, Charlie Bradshaw said. 
He realized he couldn't do both, his son said, "so Mams took over Triangle Electric. Nineteen sixty-five is when she got it incorporated."
In 1970 she took and passed Virginia's Masters Electrical licensing exam, he said — the first woman in the commonwealth to do so.
Among men who sometimes would not take her seriously, "she stood her ground and didn't let anyone intimidate her," Charlie Bradshaw said. "Some people would try. You didn't run over Nancy Bradshaw."
She ran the business and also would go out on jobs and work if a crew was running behind or an employee was out, he said.
She also got her Masters Electrician license in North Carolina and took continuing education classes to keep up her credentials in both states, he said.
Charlie Bradshaw said his son, Michael Bradshaw, will take over as president of the company, and Charlie Bradshaw will be president of the board.
Nancy and Aubrey Bradshaw has another son, John, who died in an industrial accident in 2001 at the age of 42.
After her husband died of colon cancer at the age of 55 in 1986, Nancy Bradshaw became suspicious of chemicals used in commercial farming and other areas, she told the Bulletin in a 2009 article about gardening. 
Her 3-acre yard in Horsepasture was a veritable Garden of Eden, with ornamental and vegetable plants all growing together, and a relaxing 20-by-40-foot fish pond.
She had a lively personality and sense of humor, too: In a program she gave in 2011 to the local Master Gardeners, she talked about a collection of intensely fragrant blooms: "I have 25 gardenias, and I have the sexiest yard in all of Horsepasture."
"Nancy Bradshaw was one of the first members of the Henry County/City of Martinsville Master Gardeners," Virginia Cooperative Extension Horticulture Agent Melanie Barrow said. "Her knowledge and love of plants, and sincere love of community, will be greatly missed by its residents.
"I have known Nancy since a very young age, as I grew up in the same community she lived and church she attended. She was always willing to lend her helpfulness and wisdom to all she came in contact with."
For years she and her sister, June Leftwich — who died in April — attended gardening meetings, classes and events throughout the area together. 
"She made sure everybody had vegetables" and flowers from her gardens, her son said. When failing health prevented her from being able to work in her gardens, some of the Triangle employees would help her out in the evenings.
She took care of the landscaping at Horsepasture Christian Church, where she had taught Sunday school for more than 30 years.
She was the head cook for the Horsepasture Ruritan Club, and was involved with the Horsepasture Volunteer Fire Department and Ladies Auxiliary, SCORE, Eastern Star, American Heart Association and other groups.
In 2008 she received the county's Jack Dalton Community Service Award for exemplary contributions to the community (Charlie Bradshaw won the award in 2005).
"What hadn't she done" to help her fellow citizens, her son speculated.
Her personality "was sweet, as long as you didn't cross her," he said laughing.
Nancy Bradshaw's funeral will be at 2 p.m. Friday at Horsepasture Christian Church, and visitation will be there from noon to 2 p.m.