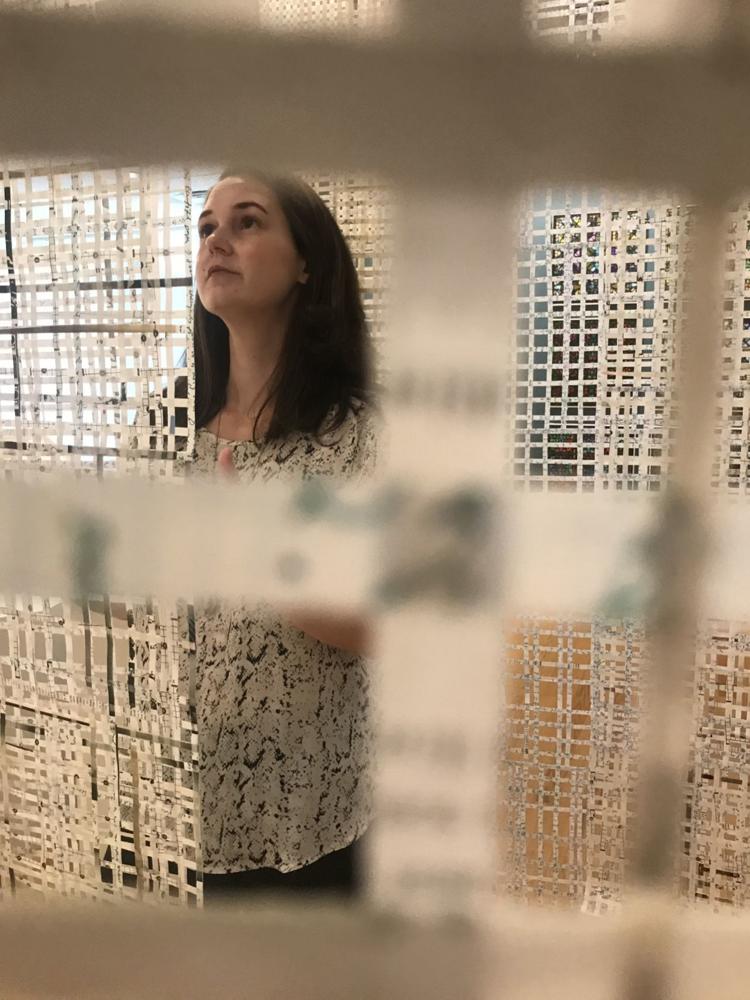 The new exhibits at Piedmont Art look at uses of wax to bring other dimensions to art, as well as a new perspective on a local artist and collectors.
"FLASHPOINTS : Material : Intent : Fused" features the encaustic — meaning using wax — work of four female artists. Also on exhibit are Parts 2 by Ed Dollinger of Bassett and the collection of the late John and Judy Matthews.
In "FLASHPOINTS," "The Family Secrets" by Daniella Woolf is an airy (almost) floor-to-ceiling series of wax-coated, woven paper strips. It is made of pieces of the artist's mother's knitting instructions and father's journals.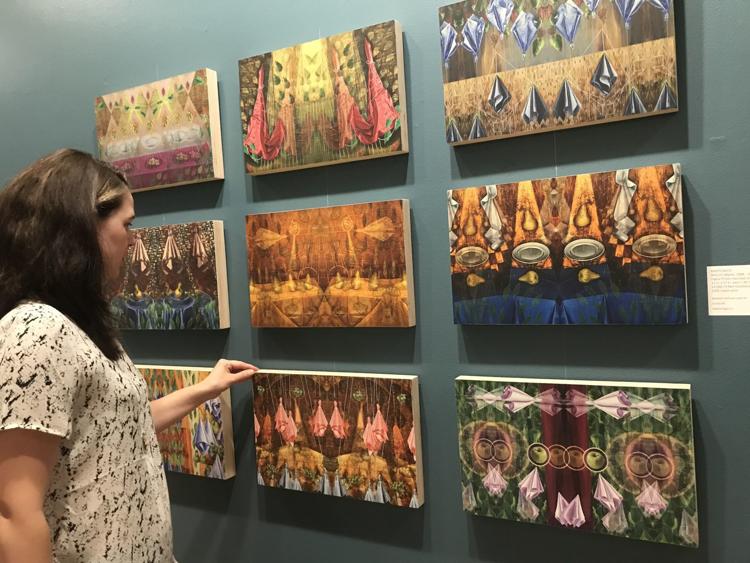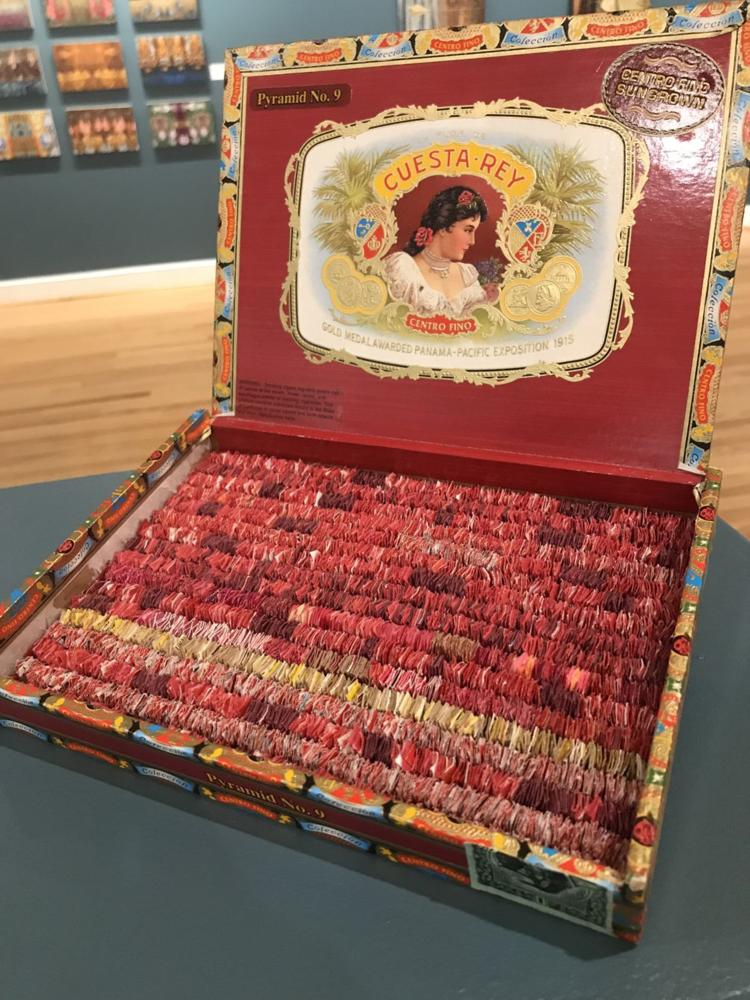 Also by Woolf, an open cigar box displays what's inside: rows of tiny, strung squares of paper in the exact colors of the box. Other small tiles and boxes have similar collections of papers, one of tea bags, another of library date cards.
She "uses a lot of found objects to construct intimate sculptures on a small scale," Piedmont Arts Director of Exhibitions Bernadette Moore said. They are "things you want to look at — get really close to investigate. ... When she puts them in little boxes, it feels like you're privy to a secret."
Monoprints by Jane Nodine, in subdued earth tones, line part of one wall. A monoprint is entirely unique, made from a plate which is destroyed without any other prints having been made from it.
On the other end of that wall is an assortment of various objects dipped fully or partially in wax, by Nodine. Some you would recognize; others would stump you. "They're super weird but really interesting, too," Moore said.
Two grid series by Reni Gower command the opposite wall. Each is a collection of colorful, patterned pieces reminiscent of stained glass. One grouping is of colored wax; the other, more brightly colored but without the same depth, is of acrylic paint.
The patterns use symbols and "sacred shapes of lots of religions and cultures," Moore said.
Gower is the curator of the exhibit.
Wood panels of wax and oil paint by Kristy Dertz feature regular objects in unique patterns with depths of rich color.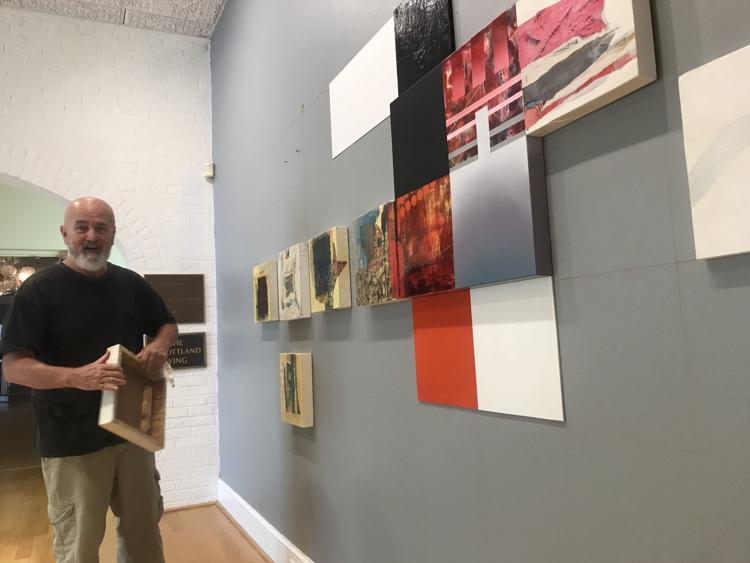 In the opposite gallery, Dolinger's exhibit is a collection of 12-inch encaustic collages.
Dolinger of Bassett — now a full-time Henry County resident, after a career as an art instructor at Holland University — started "doing loose collages," he said, mostly with the pages of art magazines, since he left Roanoke, where he had lived past-time, two years ago.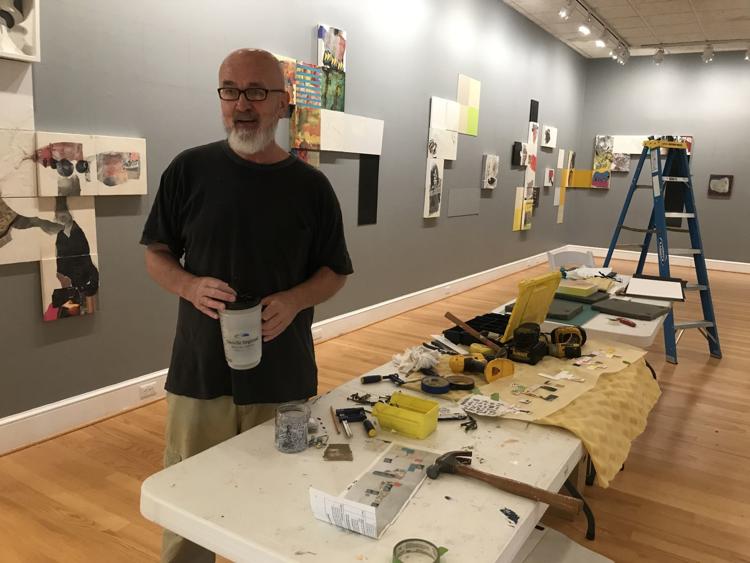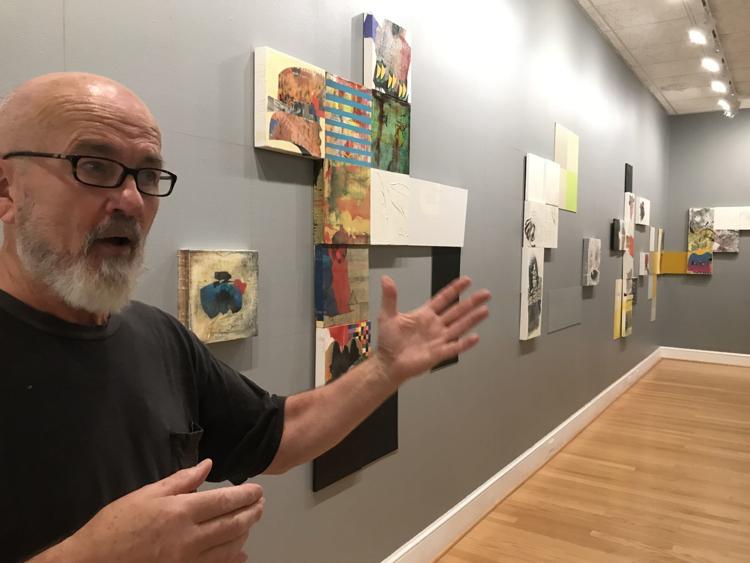 However, you'd be hard pressed to recognize the colors and forms as being from magazine pages. Built up with many layers of beeswax, they have a luminescence and depth as entirely new matters.
The squares dance together in splotches of color and shape across the three gallery walls, each grouped like its own domino game. Various blocks of the wall itself also are altered, giving the area somewhat of a 3-D look.
In the Lynwood Artists Gallery is the collection of art that used to belong to staunch supporters of the arts in Martinsville, the late Judy and John Matthews.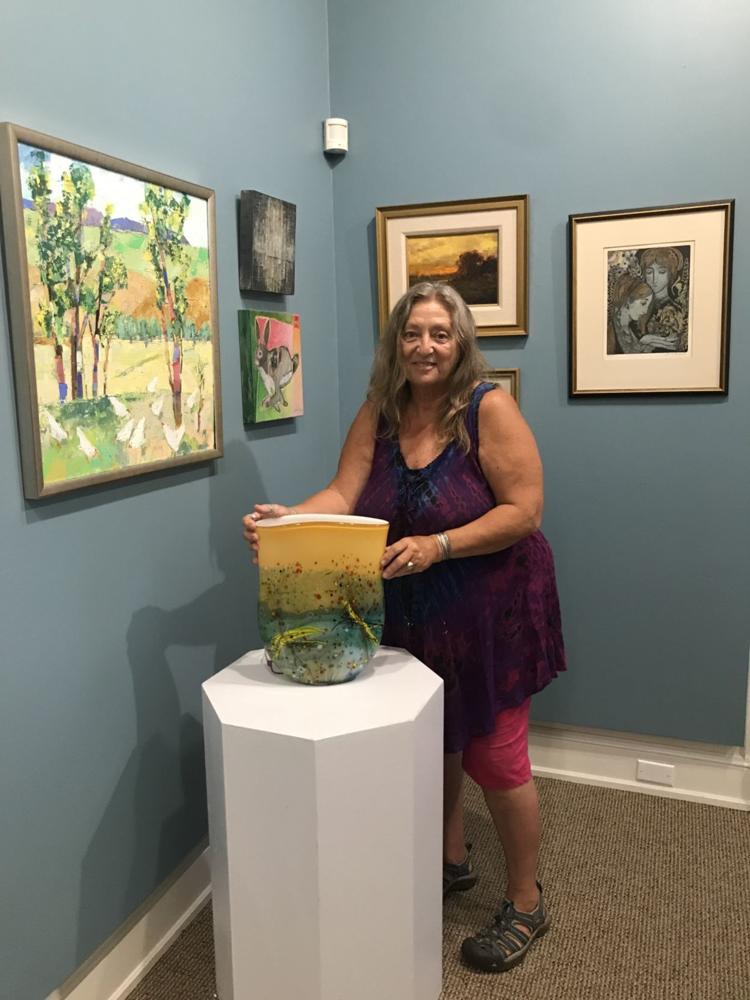 "Everywhere they traveled they bought art," and they have been all over the world, said Lynwood Artist President Jessie Ward.
The 95 pieces of art include paintings, sketches and sculptures.
The collection "is amazing. They had good taste," said watercolor artist Jane Iten. "They didn't buy anything that wasn't fabulous."
They couple also supported local artists, such as a 1991 abstract by Nan Covert, the wife of the then-rector of Christ Episcopal Church, glass artist Aleen Wilson pointed out.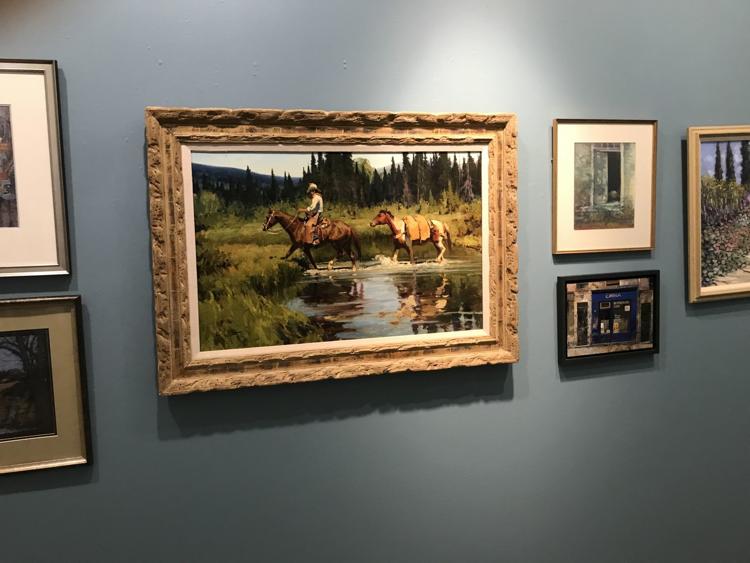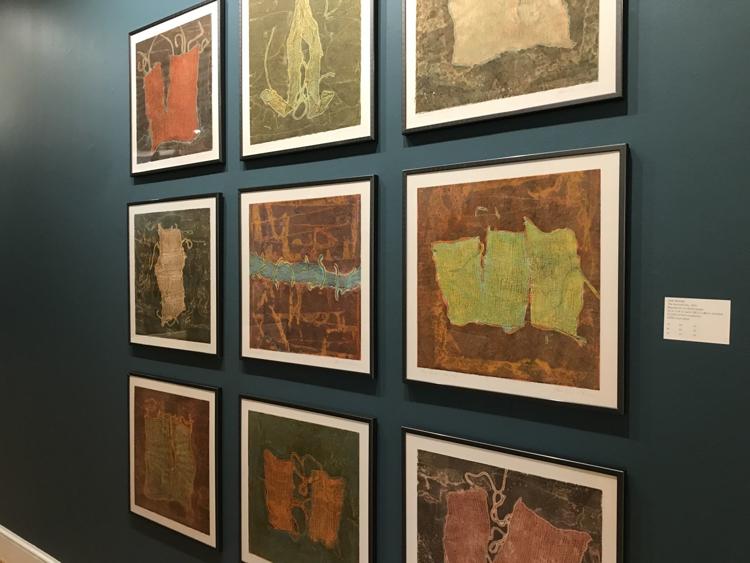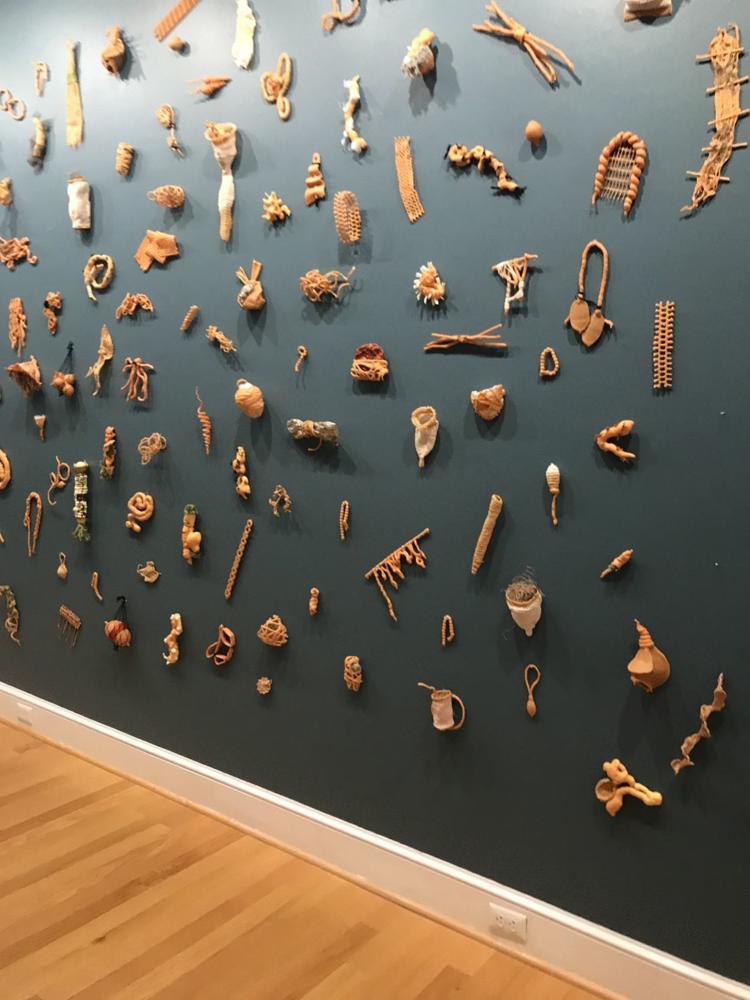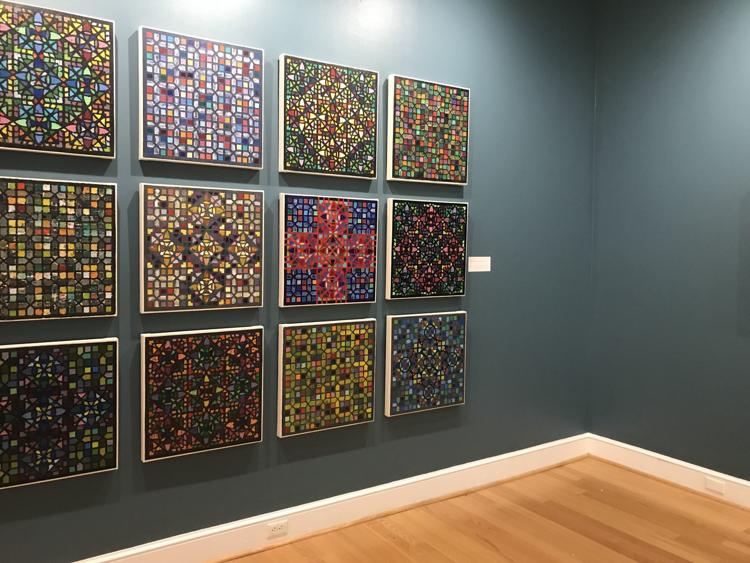 Holly Kozelsky is a writer for the Martinsville Bulletin; contact her at 276-638-8801 ext. 243.