The man reached over to shake Randy Hedrick's hand.
"Hi, I'm Steven," the bearded, bespectacled man told Hedrick upon meeting at the White Mill building situated along the waterfront in downtown Danville.
"You look very familiar," Hedrick said. "What's your last name?"
"Spielberg," responded the man who has directed nearly three dozen films including "Jaws," "Close Encounters of the Third Kind," "E.T." and "Saving Private Ryan."
As soon as he said his last name, it all clicked for Hedrick.
"He was as nice a person as you could ever meet," Hedrick said during an interview Wednesday.
Hedrick used to work at Dan River Inc., which once owned the building, and is the son of Hunt Hedrick Sr., who ran the sewing room in the No. 5 Mill at the company's Schoolfield Division.
Steven Spielberg visited the city Thursday and Friday last week and talked to former Dan River Inc. employees. He asked them what Danville was like, how it had changed over the decades and the influence the textile mill had in the region.
"His sole interest was on the history of the mill and growing up in the Dan River [mill]," said Gary Knick, a former mill employee whose parents also worked there.
Knick also was not quite sure who he was talking to until Spielberg introduced himself.
"At first I kept saying he looked familiar," he said. "When he threw out his last name, it was like 'Wow.'"
Two telephone messages and an email left for Spielberg's production company, Amblin Partners in Universal City, California, were not returned by deadline Wednesday.
Elizabeth Rembold, who co-owns General Aviation Inc., which is the fixed-based operator at Danville Regional Airport, said Spielberg, his relatives and others arrived at the airport last Thursday around 4 p.m. and departed at about the same time the next day.
"He was very nice, very friendly," she said. "I only met him for a few minutes. We enjoyed meeting him."
She and her husband Mike took a selfie with the 72-year-old filmmaking icon. When Mike initially struggled to take the photo, Spielberg took over and, well, directed.
"He said, 'let me do it,'" Elizabeth said. "He took Mike's telephone and took the selfie of the three of us. He said, 'I do this all the time.'"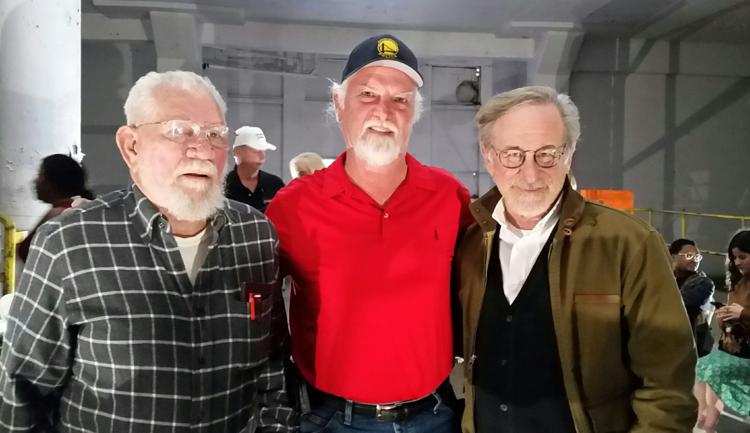 Hedrick said he was contacted April 20 by an archivist with the University of North Carolina who does archiving for the Schoolfield Museum and Cultural Center — where he and Knick serve on the board of directors — and was asked to come to the White Mill building and answer questions about it and growing up in Danville.
He had no idea who he would be meeting.
"We really had no expectation of what was going on," Hedrick said. "We were just asked to be there."
City officials, including Mayor Alonzo Jones, Vice Mayor Lee Vogler and City Manager Ken Larking, said they did not know Spielberg had visited Danville until after he left, and had no idea that he was coming.
Larking said city officials also met with Spielberg, but would not say who.
Danville Economic Development Director Telly Tucker said his office did not arrange to have Spielberg visit the city, and that he did not meet with him.
"I was not aware he was coming," Tucker said. "We didn't have anything to do with that."
Knick and Hedrick told Spielberg of the mill's history and what it was like coming of age in Danville's Schoolfield community.
They said they did not know why Spielberg was gathering information about Danville.
"I regret not asking them," Hedrick said.
Mike Rembold, who operates the airport with Elizabeth, said he talked with Spielberg for about 10 or 15 minutes about aviation. Spielberg was flown in on a Gulfstream 650. "It was pretty new," Mike said.
"I didn't know what to say at first," he said of seeing him for the first time. "I kept looking at him and I realized who it was."
"Welcome to Danville," were Mike's first words to the director whose dog's name is Leroy.
When he saw the number on the plane, Mike realized he had communicated with the pilot before. The pilot had called in advance asking about the runway's conditions and how much weight it would allow, but did not say who would be arriving.
"He called me when he left California," he recalled. "I knew it was somebody important."