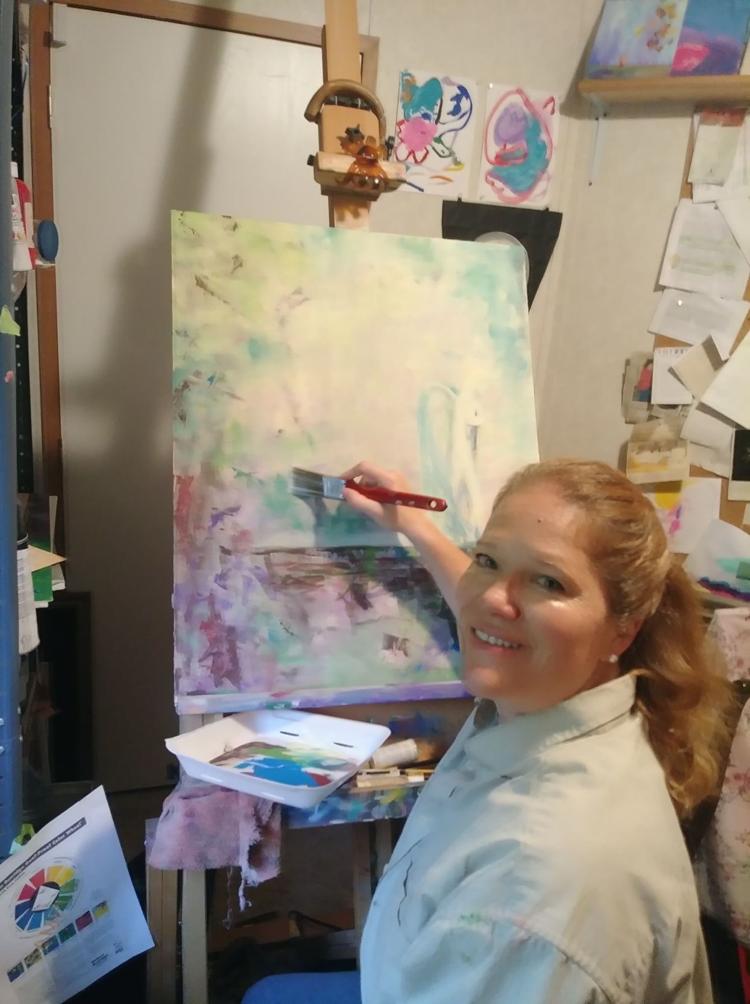 Artist Pepper Martin is going on a 100-paintings blitz for two reasons: to get her painting career built back up — and to pay off some high medical bills.
Martin, 43, painted regularly when she was a stay-at-home mother. When Halo, now 9, started kindergarten, Martin went back to work as a counselor, and life got in the way of art.
Martin, who lives in Patrick Springs, is a crisis stabilization and substance abuse counselor for Piedmont Community Services at its Patrick County branch.
She has a bachelor's degree in dance — "at one time I was a pretty serious ballet dancer" — and a master's degree in psychology, both from Redford University.
Growing up, "like every other kid," she said she always enjoyed art classes in school, and she drew with pencil off and on through the years.
She and her husband, Kelsey, used to ride motorcycles, and she got interested in the painted designs on motorcycles and took that up 13 years ago. She attended airbrushing workshops in Las Vegas and South Carolina to learn.
A few years after that she began to paint oil on canvas. She took a couple of workshops, including one by John Seerey-Lester in Germanton, N.C.
In those early years focused on getting the hang of painting skills: "You have to be able to do that before you can make people say, 'Wow'" with paintings that evoke emotion as well as show a scene, she said.
She tackled all sorts of subjects, tending to prefer old home places, which bring memories back to life for families, and portraits, especially those of rugged, older men, which convey such character, she said.
"I really like [painting] people," she said. "I like the challenge of it."
The foundation is the set of skills to get the painting to look like the subject, but beyond that, a good artist tries "to get the feeling, knowing what edges to use, colors to make it pop," and evoke a mood, she said.
Another challenging subject, perhaps surprisingly, is the cloud.
"Clouds are a lot like people, with so many nuances," she said. "If you don't get it right, they don't feel real."
Martin also taught painting classes around the region, including at Piedmont Arts in Martinsville. 
Once her daughter was in school, and she returned to counseling work, her painting slowed down significantly.
In January Martin had back surgery. Instead of traditional insurance, she was enrolled in what she described as a "Christian cost-share program." 
"They were very misleading," she said. "They told me everything would be paid for" — but she has ended up with more than $11,000 in bills, and the invoices keep rolling in.
Similar to the way she grew up, she and her husband don't like to have bills, she said: "Rather than stretch it out, in my family we just work harder and pay our bills."
She thought about taking a part-time job, when it hit her that revving up her painting by commission could be that part-time job.
 "I figured it was about time to jump back in with both feet," she said.
She decided to set a goal: Paint 100 paintings for $100 each, over the course of 100 days.
Each painting will be of a subject requested by each client, including landscapes, homeplaces and portraits of people and pets, on 16-by-20-inch canvas, unframed. 
She will start in July and paint daily — her best times are when she starts at 4 or 5 a.m. and finishes in the evening, she said — through September.
The Creative Arts Center in Stuart has a show of her paintings planned for November and December. She will ask some clients if they would allow their paintings to be in the show, but it wouldn't be required.
Although getting the full 100 commissions would be great, Martin said she doesn't count her chickens before they hatch. Between client-driven paintings, she will paint some of her own designs. She particularly is interested, she said, in painting portraits of celebrities, such as Robin Williams, Queen Latifah and the Obama family.