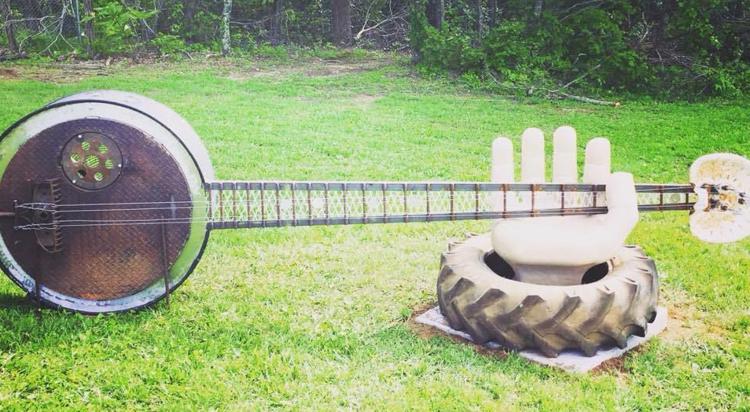 A new Patrick County project brings together nature and art — in the form of a resting place.
It's the Patrick County Trail Hands, a series of five installation pieces placed along nature trails around the county. The pieces are cement chairs in the shapes of hands; the base is the wrist, the seat is the palm and the back and sides are the fingers.
The Trail Hands chairs were decorated by Pepper Martin, Grace Helms, Nancy Clark, Joyce Wray and Sarah Reyburn with media including paint, fused glass and stones.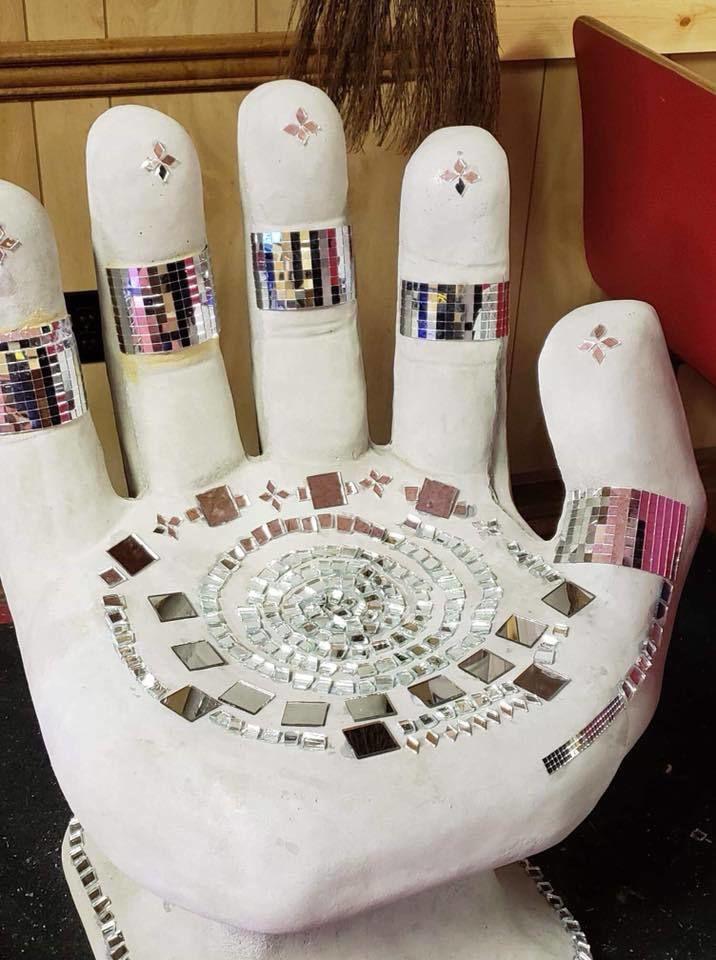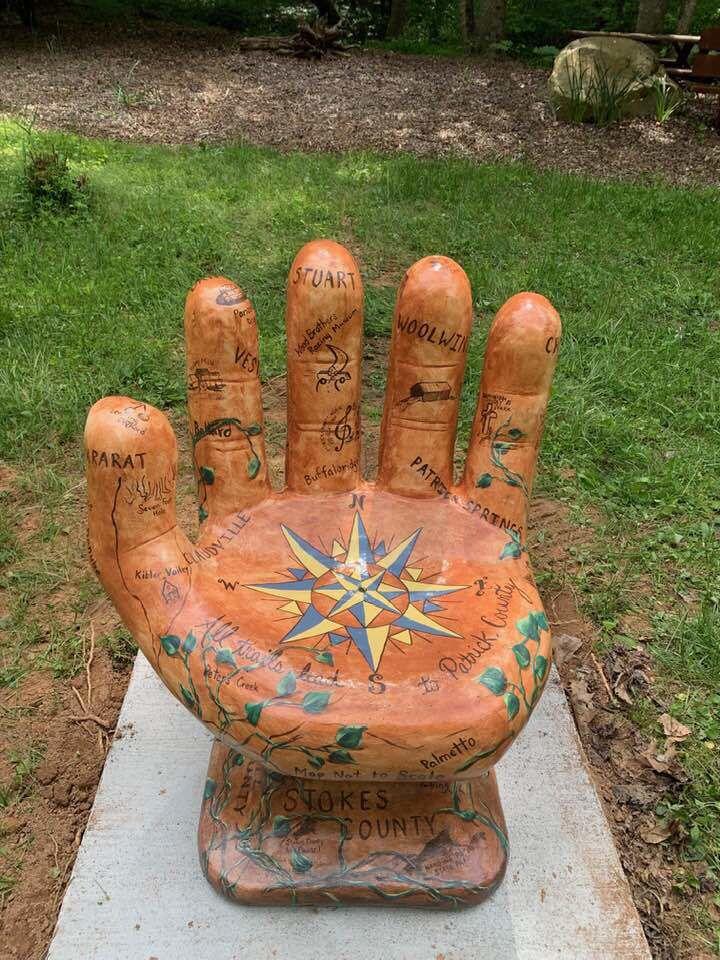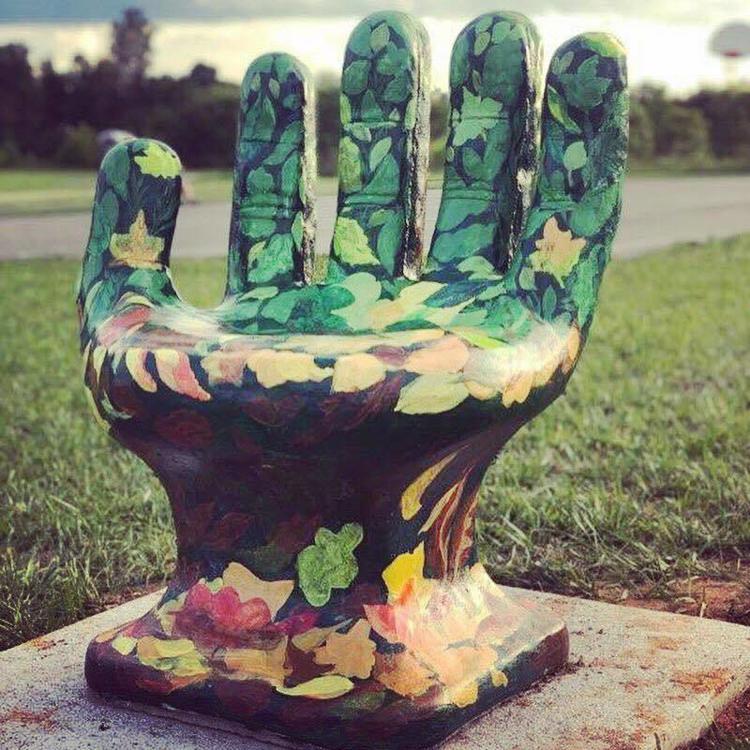 Patrick County Trail Hands will hold an opening ceremony at 8:30 a.m. Saturday. It will start at the installation at Reynolds Homestead at 8:45 a.m., then travel to Dan River Park at 11 a.m., Mountain Top Park (bring picnic lunch) at 1 p.m.,  I.C. Dehart, 3:30 p.m. and Mayo River Trail at 5:30 p.m.
Planning for the Trail Hands project was started in April 2018 as an AIR Shift project, according Sarah Wray of the Reynolds Homestead, part of the Trail Hands committee. Other members of the committee are Norma Bozenmayer, Anna Lester, Grace Helms, Mitch Sheppard, Sybil Slate, Terri Alt, Beth Witt, Jim Allen and Wayne Kirkpatrick.
The idea was to "bring together art and hiking trails in celebration of heritage, arts, nature, dreams and the stories of our community," she said. That led to the official theme, "Heritage – Arts – Nature – Dreams."
Artists painted and decorated the chairs over the winter. They were installed at the trail sites with help by Patrick County Parks and Rreation and Clark Gas & Oil.
Dan River Basin Association is helping by putting together some pages on the Visit Patrick County website about it, she said.
Nancy Clark
Clark said, "I have a lot of genealogical history in Patrick County" which was a reason the work appealed to her. "Then I thought of all the things that reminded me of Patrick County," and decided to include symbols of them in her design.
The stained glass artist made glass images of "those things you think about" in the area: Mabry's Mill, rock churches, the Jack's Creek covered bridge, farms, flowers, guitars, banjos, wild animals, snow and more.
After a couple of months making the tiny glass images, she spent a month of long winter days adhering them to the chair.
She worked in it in her garage, in a space defined by a tent and warmed by a propane heater. Covering "every single inch was quite a challenge for a 70-year-old laying on the concrete floor hour upon hour," she said.
She was happy with the place her chair was set, she said: It "is absolutely gorgeous," she said.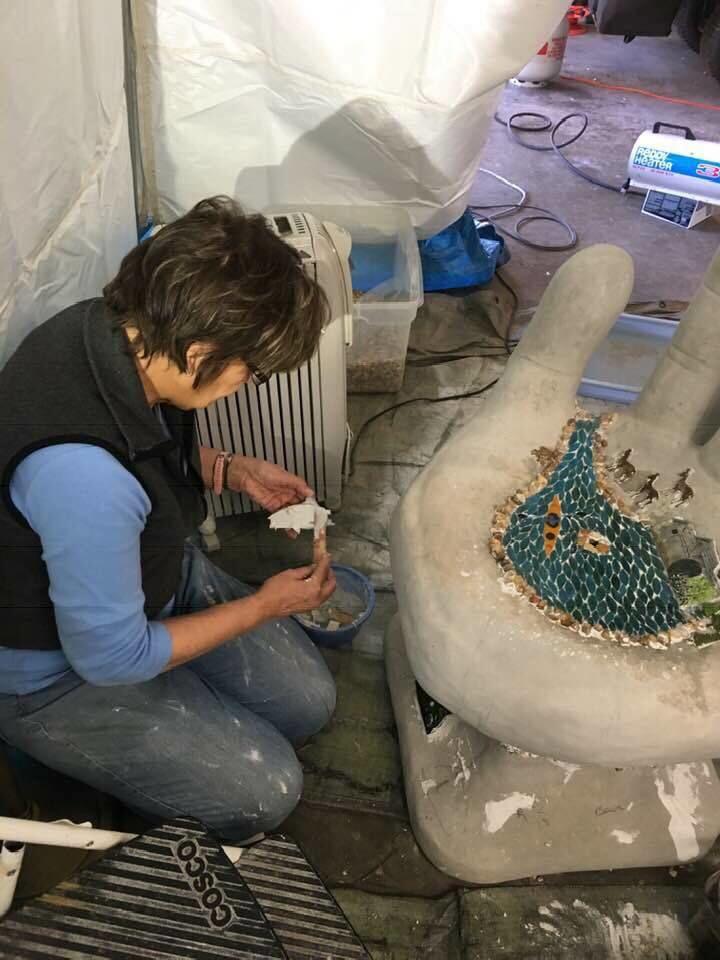 Grace Helms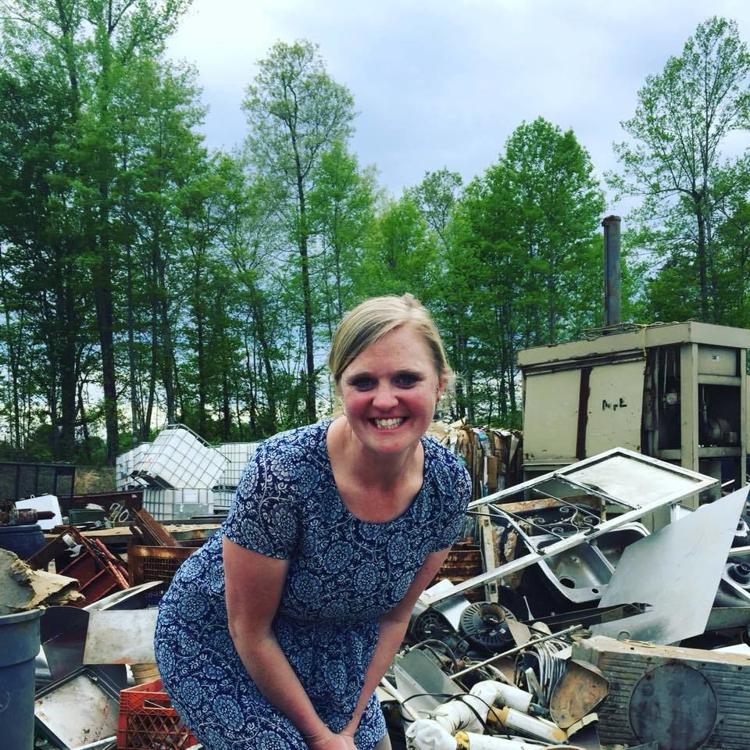 Helms' chair represents Patrick County not only through images but through actual pieces gathered here and there — and made into a 12-foot-long banjo with the head (big round part) resting on the ground and the peghead (small part at top where strings are tuned) resting in the palm of the hand.
"I grew up here and really like the beauty of the country, and I'm also a farm girl and love to recycle," she said, hence the larger-than-life banjo made with some old farm pieces.
Not only is the banjo a common sight in Patrick County, but it also figures in her life: She has been a neighbor of nationally famous banjo player Sammy Shelor, who would wave at her from his tour bus on his way home from shows, and her nephew, 14-year-old Sam Pendleton, has a reputation as an accomplished musician.
A huge fan from Jamie's Recycling forms the resonator, the drumhead is made from steel from Mechanical Designs and the head is a manhole cover from Clark Gas and Oil, with an inset made of metal from Griffith Lumber's sawmill. A rake from her great-uncle Willie Wood's farm is the bridge.
A tractor seat from Shelor's Dairy forms the peghead.
Mayberry Trading Post, which her grandmother Peggy Barkley used to run, donated the tail piece.
The neck and frets are made of rebar, and inlays are made from book supports the Stuart Library no longer needed.
Zach Houchins of Turbo Lab welded the pieces into the banjo form.
A tractor tire from Wayne Kirkpatrick's farm is around the base of the chair — the wrist of the hand — representing a musician's sleeve. A ring on the finger, inset with "You are loved," inspired by church, was donated by Mechanical Designs.
"I was trying to find all the places in the county that mean a lot to me" for the parts to build it, she said.
The title of her piece is "Bridging Tradition."
Sarah Reyburn
Reyburn's Spoon Mountain Farm in Meadows of Dan has all the best of Patrick County nature and filled her with the inspiration for her design.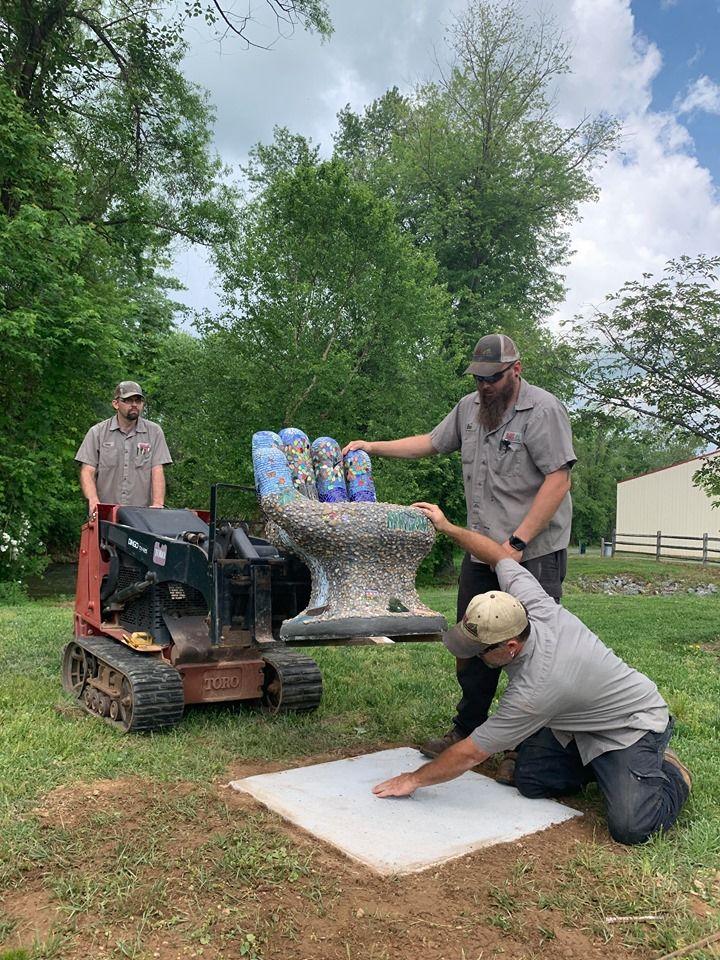 When Reyburn travels, she notices installations which represent their communities, such as a banjo in North Carolina, a pig in Massachusetts and a whale in Cape Cod, and she always had wished Patrick County also had some sort of area-wide art statue. When the project was announced, it was clear to her that the local them would be forests and trees and other aspects of nature, "something very close to my heart," she said.
Her design would be both educational, to help people "accurately identify some of the things that grow locally," plus remain "useful as a chair, functional and comfortable to sit in" instead of bumpy.
It should blend in with the environment, she said, so she painted it in natural colors.
She worked on the chair in B. and Coates Clark's garden shed in February.
The Clarks' cooperation was part of the "huge community effort" to pull it all together, she said.
Pepper Martin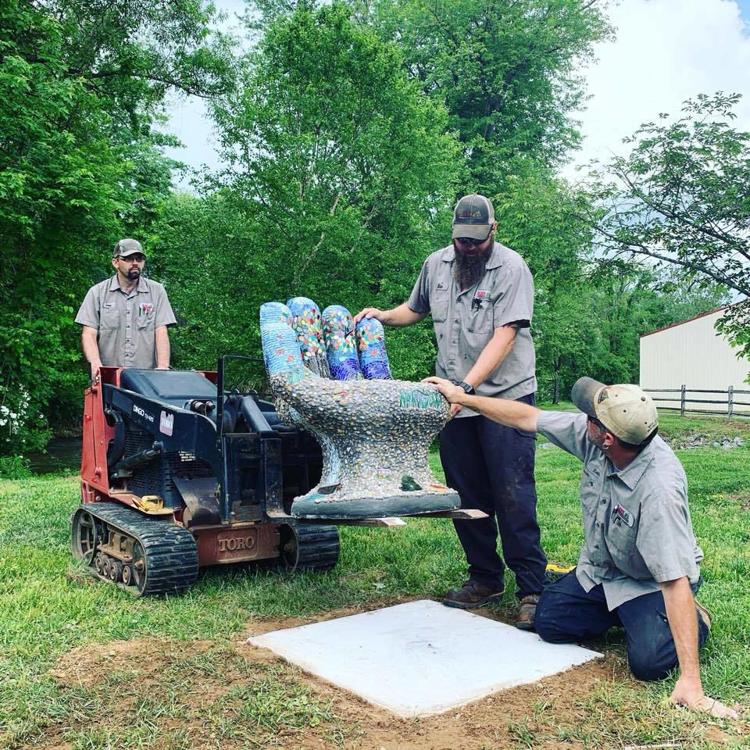 Martin took advantage of her project to map out attractions in Patrick County, but you would have to be a local privy to inside jokes to get all of them.
Of course you would expect Lover's Leap to be on there, but how about the "7-foot hole" in Ararat? It's a natural swimming hole in the Dan River off Sawmill Road, but it's represented on the map design by seven actual feet, so while locals may get a chuckle at it, it's not likely that the chair-map would get the place overrun by tourists.
"Some of it is a little irreverent if you really look at it," Martin chuckled.
The base of her design is a mottled brown color achieved through a faux finish. Words and designs are painted on in black, and green vines wind their way around parts of it.
In the palm of the hand — the seat of the chair — is a compass, with "All trails lead to Patrick County" written underneath.
Her design is "pretty simple in relation to some of the other ones, but I like simple," she said.
She painted the chair in her garage, but since it was January, had put up a 10-foot tent around it and warmed the space with a heater, in part for her comfort, and in part so it would be warm enough for the paint to adhere and dry.
Having an installation is a particular honor because "it will be out there for lots of people to see, which is hard to do with a regular painting," she said.
Being part of the project "was so much fun. I had wanted to do something like this for a long time — Martinsville had the dinosaurs, and Mt. Airy had guitars orsomething. I just kept hoping that Patrick County would do something like this."
Joyce Wray
Wray, who lives in Fieldale, wanted her chair to reflect Patrick County – literally, not just figuratively. It's covered in more than 300 tiny mirrors so the chair, through their reflections, changes with the seasons.
By reflecting change, the mirrors also represent the changing economy and culture of Patrick County, she said: "I looked toward the future rather than looked toward the heritage of it."
Because its mirrors also reflect the people looking at it, "it captures the spirit of everyone" who sees it, she said.
Keeping with the larger theme, the backs of the fingers display words such as "arts," "stories" and "dreams."
To keep the focus on the mirrors and what they reflect, the chair is painted a neutral white. It is sealed in a glossy sealant. As a surprising result, "Everyone is telling me it looks like a glove sparkling. They nicknamed it 'The Bling Chair,'" she said.
It is placed by a river, where it reflects sunlight and sparkles, she said.
She worked on her chair at the Moose Lodge, where it was a topic of conversation for people there.
It is titled "Reflections: The Ever-Changing Chair."
AIR Shift
AIR Shift is a program started in Colorado and recently debuted at Virginia Tech. The Reynolds Homestead in Patrick County is Virginia Tech's pilot site.
AIR Shift is a 3-day workshop that has a curriculum built around "bringing together artists and business people … a cross-sector of individuals to work on some kind of community development project," Wray said.
Groups work together to create a proposal for a project that benefits the area through tourism or economic development, and a business plan to implement the idea. If accepted, the groups receive up to $10,000 in funding from Virginia Tech.
The Trail Hands project, a Barn Quilt Trail and a Rise and Shine Youth Farmers Market were the three projects to spring from the first AIR Shift program. The $10,000 in funding was split among the three.
Meanwhile, new AIR Shaft projects have been planned for the upcoming year, including a community garden for a food bank and a mobile history wagon or truck to visit communities.