Upwards of 300 people will gather on the track at Bassett High School on Friday. The crowd won't be there for a rivalry football game. They're not at the school for teacher orientation. And class won't be in session.
The hundreds will arrive on campus in their comfy walking shoes, exuberant outfits and determination in tact, all ready to move for a cause – beating cancer once and for all.
Relay for Life, a fundraiser benefitting the American Cancer Society, celebrates its 35th anniversary this year, and the Martinsville-Henry County area will soon join in those festivities.
One of the most profitable fundraisers for the American Cancer Society, the relay started with Dr. Gordon "Gordy" Klatt in 1985 when he walked and ran for 24 hours around the University of Puget Sound's track in Tacoma, Wash. That 1-man, 86-mile relay raised $27,000 for the society.
The following year, Klatt rallied teams for the event, held at the Stadium Bowl in Washington state. Those 19 groups raised $33,000 at the 24-hour event.
Relay for Life events started popping up across the country. Now, the fundraiser is a global phenomenon, raising $406 million for cancer research last year. Funds also made 456,000 nights of free lodging available to patients at Hope Lodge, a hotel chain providing a nurturing, home-like environment where cancer patients and caregivers can retreat to private rooms or connect with others while receiving treatment away from home.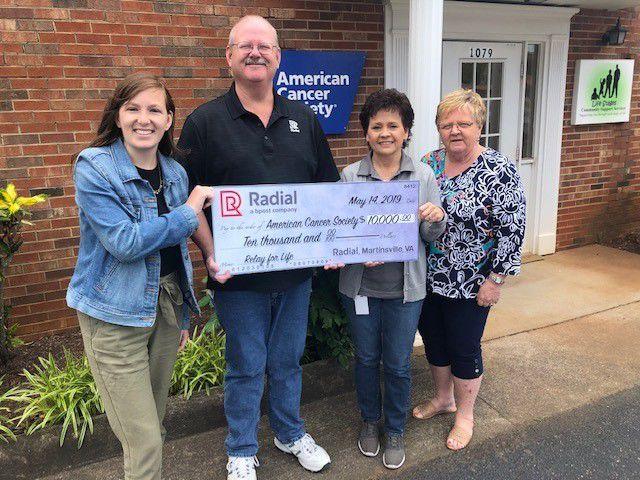 As of noon on Wednesday, the local Relay for Life donations totaled more than $46,900. By the time the event rolls around, Emmy Gurley, American Cancer Society community development coordinator for the Martinsville area, said she hopes for nearly double.
"Our goal is $80,000, which is the same as last year," Gurley said.
Approximately 235 of the expected 300 participants have registered, which still leaves plenty of hope for the remaining funds.
"There are a lot of people that come the day of," Gurley said.
In years past, the Martinsville-area event spanned through the night. This year, the event won't be quite as long but will expand in different ways.
"Starting in Martinsville, it's been going on for at least 10 years," Gurley said. "It's only been growing every year."
This year, the evening will be packed with walking, live music performances and a campsite cookout featuring a variety of foods from each of the approximately 30 teams.
Two high points of the evening include the survivor lap for those who fought cancer and won and the caregiver lap, which honors those who assist, support and care for patients seeking treatment. With one out of three Americans diagnosed with cancer in their lifetimes, the special laps garner meaningful attention.
"That's one way we're making sure they knew we're here for them. We're here for their families. We're proud of them," Gurley said.
Another powerful moment occurs during the luminaria ceremony. The special time honors and remembers everyone touched by cancer. Each lighted bag represents a life taken by cancer, a cancer survivor or offers support for someone still fighting the disease. The demonstration serves two major purposes – to offer a time to grieve and to celebrate hope.
Gurley encouraged those who could only come for a brief time to consider planning around the luminaria ceremony and the corresponding silent lap.
"The silent lap is really, really nice," Gurley said.
Free and open to the public, participants need not bring anything other than themselves to support the eradication of cancer and to champion those tackling the disease.
"There's no cost at all," Gurley said.
While participation in the event is free, those who want to make a donation are certainly welcome to do so. As of Wednesday, major donations came primarily from local sponsors, teams and individuals.
Gurley encouraged the community to rally around the relay, including people from nearby cities and counties.
"It's our way to show support," Gurley said.
WHAT: Fundraiser for American Cancer Society in which participants walk laps around a track
WHERE: Bassett High School, 85 Riverside Dr. in Bassett.