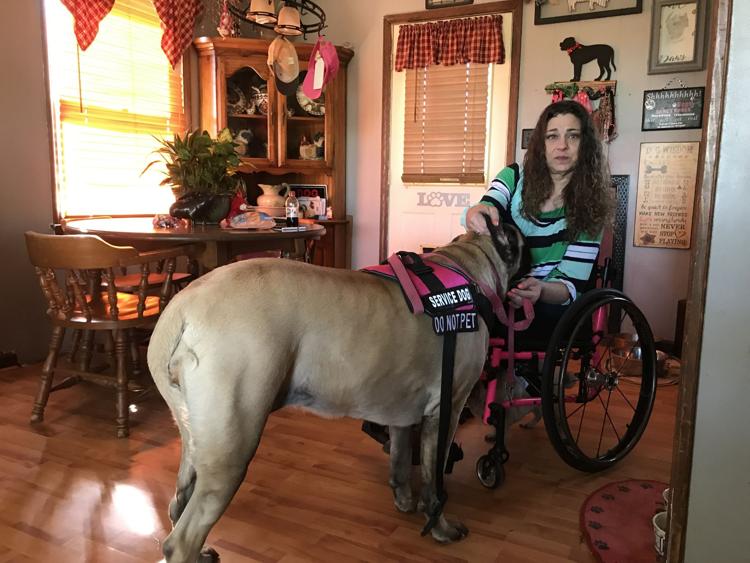 The dog weighed 180 pounds and was young and at times unruly. On walks she sometimes would pull her handler right out of her wheelchair.
These days Tonya Gillespie said she couldn't go anywhere without the aid and protection of a 4-year-old Old English Mastiff named Ellie Mae.
Gillespie, 43, a resident of Spencer, has been wheelchair bound for decades. She has pets for years, but they were usually little dogs, such as a 15-year-old pug named Charlie or an 8-year-old Yorkie named Chopper. She also has a 16-month-old pet pig named Pixie.
But Gillespie said she always had wanted an Old English Mastiff, so when she heard a breeder in Madison, N.C., had puppies, she decided to take her chance.
And Ellie Mae has become unquestionably the dog for her. Another puppy ran and hid from Gillespie and her wheelchair, but Ellie put her paw on Gillespie's foot, "and it was love at first sight," Gillespie said.
But their relationship wasn't that simple. This growing dog was more powerful than Gillespie had bargained for. On one of their early walks when the dog pulled her out of her wheelchair, she passed through a prickly rose bush.
Gillespie said she realized getting the dog trained formally was the only way this situation would work out. "You can't have a dog this big and not have control of her," she said.
Gillespie contacted Tracey Roberts Hayes of Dog Training by Tracey — Angel-K9 in Eden, N.C. And it was Hayes who suggested that, because she was going to train Ellie Mae, why not train her to be more than a friend:
How about they train her to be a service dog?
'A totally different dog'
The women developed a plan to use Ellie Mae's strength to Gillespie's advantage, and they trained her to perform three tasks: pull the wheelchair, push it from behind and to help Gillespie get back into her chair should she fall out.
Gillespie has been using a chair for 24 years, she said, but she's getting to the point where moving the chair with her arms is hard on her shoulders. Still, she said she's not ready for an electric chair.
"When she [Ellie Mae] can take the pressure off my shoulder, that's a blessing," Gillespie said.
Some ramps, even though built supposedly for wheelchairs, are too steep for one person to move up or down alone, she said – such as at the DMV or her nail salon. That's when Ellie Mae is particularly helpful.
Ellie went through nearly a year-long training regimen before she started working last year, Gillespie said.
"In Virginia there's no qualifications" to identify a service dog. "That's why anybody can throw a vest on the dog and go anywhere they please," she said.
She had Ellie trained to North Carolina's voluntary standards, which are 120 hours of training, with 30 of those hours in a public setting so the dog can perform his tasks in the midst of distractions, she said.
Training sessions were twice a week for about an hour a day, so that the dog would not be overheated and would remain interested in the lessons.
There is no central testing or identification program for service dogs and no official service-dog registry, Gillespie said. She just ordered Ellie's vest off the internet.
Although the official training has been completed, the pair learns something new every day, she said, because "there are new distractions every day."
Some of the distractions are from people wanting to treat Ellie like a pet while she's working.
"When her vest is on, she's got a mind-switch," Gillespie said. "She's a totally different dog," focused on her work, not on being pet, playful or sociable.
When people see a service dog in action, "give the dog their space. They're working," she said.
The dog has made her not only more physically independent but also more mentally assured, Gillespie said. People with a disabilities are more vulnerable to crime, she said – but "all she [Ellie Mae] has to do is stand there. She makes me feel safe."
Having the security of the large dog gives her confidence "to go out places I would not have gone by myself." 
Gillespie said she suffers from Arteriovenous Malformation, a condition in which the blood vessels are not formed properly. When she was 19, an aneurysm ruptured in her spine, leaving her unable to walk.
She continued with her education, though, earning an associate degree from Patrick Henry Community College and a bachelor's degree from Averett University. She became a teacher at Draper Elementary School right after she was graduated.
That school closed last year, but she had stopped teaching three years ago when she developed a Stage 4 pressure sore, which required long hospitalization and then follow-up care at home.
"At the time I was devastated," she said. However, now that she's not working full time, "the stress level has completely left. I didn't realize how stressed I was" back then, she said.
Ellie's training had begun, but it lapsed while Gillespie was in the hospital and then recovering. By the time she started taking the dog back out, "she was flipping me out of my wheelchair. … I knew I had to do it right with her."
Ellie's veterinarian, Dr. Lock Boyce of Stuart, "says, 'It's not the size of the dog. It's the size of the attitude'" that matters, Gillespie said.
Now she tales Ellie on errands and shopping and for her workouts at Planet Fitness, which is Ellie's favorite place to go, she said.
Gillespie "has done such incredible work for Ellie," Hayes said.
The ADA's rules on service dogs
According to the American Disabilities Act, at ada.gov/service_animals_2010, all governments, businesses and nonprofit agencies that serve the public must allow service animals. These animals are allowed in restaurants, even if local health codes prohibit animals on the premises, and only can be denied entry into areas where an animal's presence may compromise a sterile environment, such as an operating room or burn unit of a hospital.
When it is not obvious what service an animal provides, staff only is allowed to ask two questions: Is the dog a service animal required because of a disability? And what work or task has the dog been trained to perform?
It is not legal to ask about the person's disability or to require medical documentation of the person or special identification or training documents on the dog, or to ask for the dog to demonstrate its work, ADA materials specify.
A service dog only can be turned away if it is out of control and its handler cannot control it or if it is not housebroken, according to the ADA.
The ADA defines service animals as dogs that are individually trained to do work or to perform tasks for people with disabilities, but the ADA does not have a registration process to identify such dogs.
There are three types of assistance animals, Gillespie said: emotional support dogs, which are not recognized under the Americans with Disabilities Act; therapy dogs, which don't serve particular individuals but rather help patients in hospitals or clinics; and service dogs, such as Ellie Mae.
Gillespie said it has been increasingly common in today's world to see people passing off their pets as service dogs just to be able to take them into places — and that's not fair to the dog or to other people.
"It's sad for that animal, being put in a position that they are asked to do things they are not trained to do. That's bad handling, bad ownership," she said.
Gillespie said she is in favor of stricter rules and registration for service dogs "before something happens and there's an absolute need." 
"I get a whole lot of calls. … Most people don't understand the difference between service dogs and support animals," Hayes said. "That's been a bit abused lately. With service animals it [the training] has to be specific to the handler, related to their disability."
Hayes said the reason service dogs do not have to be registered comes through "a little loophole: The ADA wanted people to be able to train their own service dogs and not have to go through a central registry," to reduce potential barriers.
However, people take advantage of that loophole to pass off dogs that aren't real service dogs, she said.
She said she has trained about five service dogs, she said. "I get lots of calls, but I'm very, very picky who I" accept as a client, she said.
She trains the dogs up to North Carolina's suggested standards and gets the clients to register the dogs through the Department of Human Resources, "even though it's not required." Part of the registration procedure involves sending the department a video of the dog's performing its tasks in public.
Both women say the main philosophy of Ellie's training — consistency with expectations — is important for any human-dog relationship.
"Basic obedience is the basis for anything," Hayes said.
She recommends that a dog owner "put in the time with the dog and develop a relationship." The relationship is developed through training and structured play and walks.
"Many of the dogs I work with now are loved but have absolutely no structure, and that causes so many behavior problems, the humans get frustrated," Hayes said. "Give it a chance to become acclimated to what you expect of it and have that clear expectation."
With the training Ellie and Gillespie have had, it's like "she's made from one of my ribs," Gillespie said. "We're that in tune with each other."