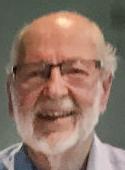 We have begun another year and have no idea what it will bring. I suspect there will be many predictions about all sorts of things: the economy, the election, the weather. You can add your own ideas to the list. Is this a year to fear?
I would like to suggest that whatever you add to the list, it is probably related to a fear you have about what might happen this coming year as a parent, a teenager, a business person, an employee, a college student, a husband, a wife, a white person, a black person, an immigrant, a democrat, a republican, and so forth.
As I reflect on my fairly long life, I see an increasing fear factor in much of our personal, religious and political lives. It appears that the idea and deciding factor in our lives is what we're afraid might happen.
Perhaps even more evident is decision-making on the reason of fear instead of anything else.
Granted, perhaps there are some good reasons to be afraid. Climate change, increasing gun violence, political disagreeing, a never-ending war, increasing military budget increases, personal debt, medical expenses: You can add your reason of fear to that very short list.
It puzzles me a great deal, this increasing focus on "fear" as the reason we "should" do something. It puzzles me because I realized decades ago, as a part of my religious awareness, that fear is NOT one of God's intentions or the basis for ever deciding on what God intends for you or even for the world.
One of the continuing major biblical themes and directions is "Be not afraid," or "Fear not," which are repeated some 148 times. Apparently, the God of the Bible never wants decisions to be made on the basis of fear or being afraid of what might happen.
In a very real sense, not being afraid was one of the major characteristics of Jesus' life. It is reflected over and over in his stories in the Gospels. It is also reflected in his apostles and in Paul's life and understanding of God's intent for a follower of Jesus in the world.
The basis of Jesus' and his disciples' and Paul's entire lives was an awareness and an expectation that God is in charge of our creation and is a never-ending presence in our world. It was clear to Jesus and his followers for the first 200 years that they saw their call and goal to bring people to live lives without fear of what this world and the leaders of this world could do to them.
It was reflected on their total unwillingness to acknowledge the Roman Emperor as a "God" and also their refusal to serve in the Roman military and the lives of other people as a soldier. The lack of fear was reflected in how they lived their faith. The early Christians saw their entire purpose for being in this world was to make it a place where God's love, forgiveness, inclusion and healing were the prominent purpose of their faith and how they lived their lives.
Their reason for not being afraid was because they had understood Jesus' deep awareness that our world will always end with our death. Their purpose was not to fear death but to fear not being faithful to the God of creation made clear by Jesus' presence in the world.
They essentially had no fear because they knew who created and who was in charge of the world and were willing to die for that creator and that power.
It is a human method to create fear in people. There is little doubt in my mind, and I suspect God's of this truth: If a human can make you afraid enough, you will do not what Jesus intends but what that human intends.
You may rest assured that the human powers of this world know human method very well. No matter who they are or what they call themselves, they will use it to get you to turn from Jesus' call to be a loving, caring person in the world.
Their main intent is to make you afraid, so you will do what they want you to do. Fear is their method, not love and forgiveness.
To be a Christian in this world is to base all our actions on God's love and forgiveness, never on fear.
I ask you again, is this "A Year for you to Fear?"
The Rev. Gene R. Anderson is supply priest of St. Paul's Episcopal Church in Martinsville.