COLLINSVILLE-It took nine months to reach this point, but The Eye Site will soon have a new home in a familiar location.
The medical practice's former home at 4244 Virginia Avenue sustained severe damage in a fire last September. But before reconstruction can start, the remains of the old building had to be torn down.
On Friday morning, Charles Perry Partners Inc. (CPPI) of Roanoke began demolishing the building, which was deemed a total loss following a fire on Sept. 17, 2017. The Eye Site CFO Frank Manuguerra said that the fire was caused by an attic fan that malfunctioned.
Uncooperative weather was the main reason it took nine months to begin the building's demolition and reconstruction phase, Manuguerra said.
According to Dr. Julie Brown, who works alongside Dr. Shannon Zollinger at The Eye Site, the demolition should be completed by this coming Friday and construction of the new building should begin in early July.
"It's a little bittersweet, honestly, because there were so many years and so much blood, sweat and tears put into the old building, so that's a little sad to see that come to an end," Brown said in a Friday interview with the Martinsville Bulletin. "But there's also a silver lining and excitement for moving forward and building a new building that has our imprint on it from beginning to end. That's the exciting part of today."
Brown and Zollinger have been at The Eye Site since 2013, Brown said. The eye care provider is located at 4244 Virginia Avenue in Collinsville.
In spite of the fire that destroyed the former office building, The Eye Site was back in business just two days after the fire. The staff operated out of the office of Dr. Thomas Unterbrink for about a month and a half, Manuguerra said, before moving operations to a rented modular building next to the burned former office.
"The Wednesday after the fire, we were back in business, and we've been busy," he said.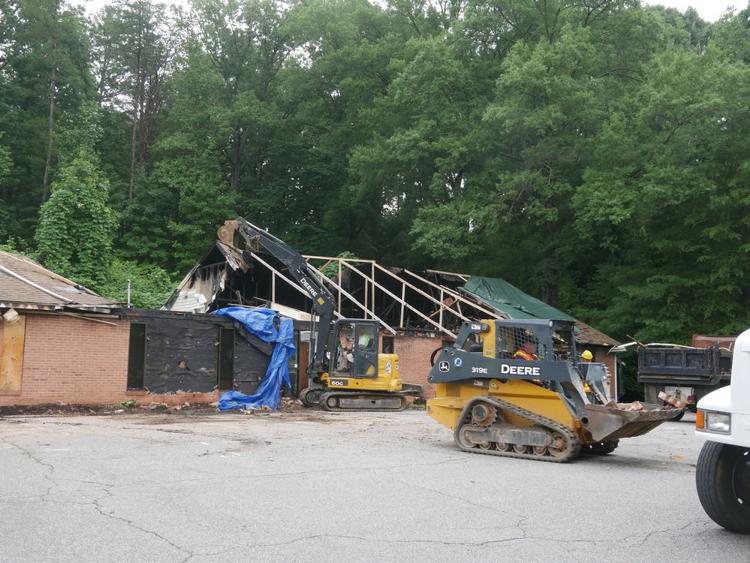 While the fire was a tragedy, Zollinger said, the community support that The Eye Site received afterward was both inspiring and humbling.
"I felt like our patients liked us, but when the fire happened … I don't think our staff cooked for a month," Zollinger said. "People brought in food. Even people who weren't our patients before called and said, 'We want to come see you guys, because you're fighting to be here.'"
Zollinger said that the staff at The Eye Site feel a calling to serve people in the Martinsville/Henry County area.
"We have worked really hard in this area, and our patient base needs us," she said. "There's a lot of care to be given. Dr. Brown and I are very busy. We see a lot of patients each day, and we see a lot of disease. … We just felt like at the end of the day, we need to be here."
Brown said that The Eye Site's new home is expected to be completed just in time for Christmas.
"I'm so excited," she said. "It's obviously been a long road, with lots of steps and lots of people involved. To see everybody's efforts come together, the design come together, that's very exciting. Christmas is one of our favorite times of the year, so to have it wrap up right around Christmas, that's about the best gift you could get."