STUART-An assembly line was never such fun.
It was the second annual Feed the Funnel event at the Rotary building in Stuart. Bopping about cheerfully to music, about 125 volunteers Saturday packed 28,000 meals for Patrick County residents in a project that felt more like a celebration than a task.
The event, the second annual, was sponsored by the Stuart United Methodist Church's youth group, which is made up of several different churches, along with the Patrick County Shooting Education Team and the Disaster Relief Fund. The youth group's leaders, Carol Beasley and Jane Cardwell, coordinated it.
Saturday morning, a truck from The Pack Shack in Arkansas pulled up and unloaded sacks of dehydrated food and packaging equipment. At 10 a.m., local volunteers set up the equipment to form stations along tables.
At 11 a.m., assembly-line workers started their jobs of putting together meals. Each wore gloves and a hairnet – and, as necessary, little hairnets over beards.
They worked in teams of five or six in the part called "Feeding the Funnel." Each team captain would pick up a bag, put a flavor packet into it, then set the bag under a funnel.
A small scoop of cheese powder with vitamins and minerals was the first ingredient to go into the funnel, which dropped it into the bag, Next, a small scoop of dehydrated vegetables went in; then a large cup of textured vegetable protein, topped by a large cup of rice.
Then the bag was removed from under the funnel and placed into a shoebox-sized plastic bin. When it was full, with five or six packets of ingredients, someone would holler out, "Runner!"
A runner, usually a kid, would come up, take the full bin and leave an empty bin. The runner would run the filled packets over to the sealing station.
Wade and Carol Nelson were among the workers at the weighing and sealing stations. They explained that one person weighs each packet of food on a scale. If it comes up sort, he'll add to it a little more rice, which is nearby in a bowl. Then he hands it to the person who will seal the plastic bag with a heat sealer. The bag is then placed in a box.
Meanwhile, other volunteers manned the supplies of ingredients, going around restocking stations as needed.
With energetic music playing loudly, the atmosphere was upbeat. There were occasional stops for fun: During The Village People's "YMCA," Jerod Ring, a co-founder of The Pack Shack, had the volunteers stop working for a moment and do the YMCA arm shapes. During another song, he told them to take a break to jump.
At different milestones – 4,000 meals, 12,000 meals and the like, Ring or a volunteer rang a gong to announce the progress.
Everything finished a little after noon, and lunch was waiting at a grill for the volunteers. Brenda Burgess was one of the people tending the lunch area, where a range of lunch foods was for sale, as well as homemade dessert for a Girl Scout project.
The meals were given to local organizations which provide food to the needy, and "the biggest recipient is Disaster Relief Food Ministry," Cardwell said. "They'll pack either ham or chicken to go along with it. That actually makes it like a big meal.
"People have a lot of fun" working at the event, Beasley said.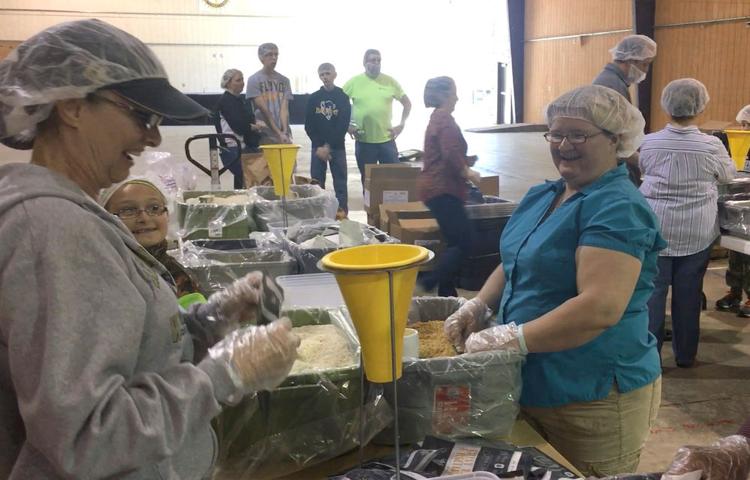 Each meal costs the sponsoring organization about 25 cents. The goal Saturday was to pack 28,000 meals, based on the amount of money the organizers had raised.
"It's just amazing to me how easy it was to raise the money," Beasley said. "The people are so good about giving."
The idea came about three years ago, when Cardwell's daughter, Shae Cardwell, now 17, a member of the Patrick County Shooting Education Team, was in Arkansas for a competition. While there, her group joined a Feed the Funnel session.
"It was so much fun for the kids, it blew our mind what happened," Jane Cardwell said. "When it was over nobody wanted to stop."
All of the food packed during that session was sent to a third world country, she said, but she and her daughter thought the same thing could be done for Patrick County.
"Well lo and behold, Shae was so passionate about it she came back and explained it to my youth group," Cardwell said. "They all liked the idea, so they started fundraising."
During the first year, they raised $5,000 by selling dinner plates, calendars, Christmas trees, Christmas cards and T-shirts and asking for donations. They were able to pack 22,000 meals.
For this year's event, "the team did a massive shoe drive for Patrick County, begging for old, used shoes," Cardwell said. The organization to which they sent the shoes paid for them. The youth group split the proceeds with the Disaster Relief Ministry "because they pack food on a monthly basis for over 300 families in Patrick County."
They also planned a pancake fundraiser in the winter, but they ran into a glitch.
The first day of a planned pancake supper went well, Beasley said, but the second day was snowed out. However, "Nickelston Fence stepped up and they gave us a check" for $1,500, she said.
All told, $7,000 was raised this year, which paid for 28,080 meals on Saturday, Cardwell said. "They'll all stay in Patrick County. Each meal feeds a family of four."
The Pack Shack is a 501(c)3 charitable organization formed in 2013, according to its website, thepackshack.org. Its mission is stated as to increase awareness about hunger issues affecting communities, to provide food and other items to nonprofit organizations and to encourage people to get involved with local nonprofit organizations.
The Pack Shack offers different meal options. Cheesy Rice & Vegetables was what was packaged Saturday in Stuart. The meal is prepared by adding boiling water and cooking for 20 minutes.
Other meal options The Pack Shack offers are Pasta Parmesan with Spinach and Tomatoes, Cheesy Rice & Vegetables and Rice Veggie Casserole. The meals are developed by Tyson Foods, according to the website.
Looking for the next sponsor
Now the women are looking for another group to coordinate the event next year. "Our goal was for it to be a community event, not us," Cardwell said. "It's all about the churches. It's about whoever in Patrick County will come together and do this to help their neighbors."
The women think they might have next year's sponsor lined up. "There is a church that is very, very excited, and I do think they're going to take it off mine and Carol's hands," she said.
It will require "a lot of fundraising," she pointed out, "but we already have $1,000" raised toward next year's Feed the Funnel.
"It's a very fun event, and it's a good way to help your neighbor," she said. "It will always be the first Saturday in April at Rotary Field, with set up from 10-11 a.m., and start packing the meals at 11."
To help or for more information, call Stuart UMC at 694-3322, Cardwell at 692-7506 or Beasley at 694-5139.