AXTON-Almost a year after they lost their 6-month-old daughter to SIDS, Marcus Bonds and Lori Lowe-Bonds are rebuilding their lives … and now, they'll soon have a new baby to welcome.
Layah died while they were at work and she was in day care on Oct. 19, 2016. The couple say they have full confidence in the day care staff that they all loved Layah and took proper care of her; it was just natural causes.
Right during the hardest time of their grieving, a month after Layah passed, "we realized we were expecting another," Lori said. "It was crazy."
The couple received the surprising news at the doctor's office. "All this happened and bam – there you go" with another baby on the way, Lori said.
So they and their family are going through the highs and lows of both welcoming another child and mourning the one lost. Their family and friends will receive the news of whether they are expecting a boy or girl on Saturday, with a gender reveal party.
They might be surprised at the news they get, Lori said, but in a way she wasn't. She had received three clear premonitions before she herself found out. She talked about those premonitions privately – you'd nod your head in agreement if you heard them, too -- but she won't spoil the surprise by announcing them publically until after Saturday.
The baby is due in July, the couple said. To announce the gender, symbolic balloons will come out of a box they open at the party. Their 11-year-old daughter, Mallori, will take part in the announcement, and it will include memories of Layah, as well.
"Everybody's happy," Lori said. Our friends and family are super happy" even as they mourn little Layah.
Lori and Marcus said they feel peace that they appreciated her and honored her during her short time with them. Still, they said, losing her was a shock that opened their eyes to the preciousness of life, and they want to share that lesson with other parents.
"Spend our time wisely with your kids, because you never know," Lori said. "She was absolutely fine – and then she was gone."
"Don't take life for granted," her husband added.
They said they don't expect to do anything different with this new baby than they did with Layah – except take more pictures.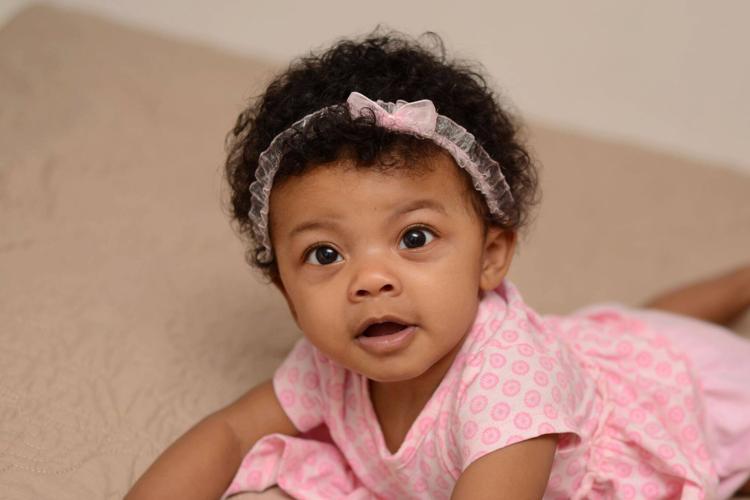 Marcus got the news about Layah first. He was working at Lowe's in Reidsville, North Carolina, where he is the service manager over four departments. It was his daughter Mallori's birthday.
He was eating lunch in a back room "just kind of chilling out" when the call from the day care came, just before noon, he said. "The only thing they said was, 'We had to call an ambulance for your baby because she was having problems breathing.' I hung up and took off. They didn't tell me" she had died.
He had trouble getting through to his wife. She is a career coach with Patrick Henry Community College, and she wasn't taking calls at the time because she was administering a test at Martinsville High School. Finally he got word to her that she had to get to the hospital.
She arrived before he did.
"I got there and they were like, 'The mom is here,'" she recalled. "People came from the back" and tried to take her into a privacy room.
She resisted being taken aside and insisted she be taken directly to Layah. A deputy at the nurse's station came out to tell her, 'Ma'am, you can't go back there,'" she said.
"I can't remember if I pushed him or not," she said, but she got to her daughter. "There was this whole room of people, and I just kept talking to her not realizing she was already gone.
"It couldn't have been five minutes, but time was in slow motion. I held her while they were still working on her. I called him and told him, 'It's bad.'"
She also called her mother, who lives in Axton. Lori was in shock, and "tears were falling down my face."
She also called Marcus' parents, because she knew he would need their support. They were en route from Roanoke by the time he arrived at the hospital.
Both Lori and Marcus held Layah from 12:30 p.m. to about 6 p.m., when the coroner arrived.
That whole time they held her, she looked the same and didn't lose color, they said.
Throughout the day, they were astonished by the dozens of well-wishers who showed up at the hospital. "The support system we had – people started coming from everywhere," Lori said.
People by their side included her pastor, Barry Dillard of St. Paul Holiness Church in Axton, and Pastor Allen Preston of Refuge Temple Ministries, who had performed the couple's wedding ceremony.
Their visitors also included staff from the day care, they said. "The day care staff loved her so much," Lori said. "We never thought that the day care did anything." In fact, she added, they, too, were grieving her death.
The cause of death was investigated by authorities, and "we (day care staff and family) were both speaking highly of each other" to the investigators, she said.
The funeral was held at Refuge Temple Ministries, which "was flooded," she said, "standing room only." Pastor Ray Arrington of High Ridge Baptist gave the eulogy.
The couple say their baby was a source of joy.
"She was super happy," always smiling, Lori said. She said "hi" when she was only two months old, and she already had walked her first steps, while using a walker.
"It was like (she was thinking), 'Wait a sec. I can move!' and that was it," her father said, laughing.
"She said 'ba-ba-ba-ba' the week she passed," Lori said, more seriously. "In hindsight, I think she was saying goodbye."
Ever since Layah was born, Lori was stricken with the constant urge to check on her to be sure she was OK, she said.
"Most of the time when I heard her do anything I would jump up – breath, cough, anything, I was standing right there on it, all night long."
However, those were just the standard preoccupations of a mother for her newborn, they said. They never saw any real indication that anything was wrong, and Layah was always healthy.
After they left the hospital the day she died, "we were OK. We were so tired," Lori said. "But it was when we got to bed, that's when it hit."
"I don't remember sleeping a whole lot that next week," Marcus said.
"The next day was so weird," Lori said.
As were the long days after that.
"I go through my phone every day, looking at photos and videos of her," Marcus said.
Lori said that since that terrible day she has "had to be the strong one. I don't think he could've coped, or my mom or anybody else," if she didn't lead the way to getting through the tragedy.
Meanwhile, the support of friends, family and co-workers continues to bolster the couple.
The couple had health insurance on Layah, but not life insurance. Going on automatic pilot, they planned the funeral without having any idea how they would pay for it, they said.
However, donations flooded in and took care of all of the expenses.
High school classmates raised almost $3,000, they said. His co-workers at Lowe's took up a collection and gave the couple $2,500. A contractor-customer of the store, whom Marcus had not even met, held a food sale outside the store and donated the proceeds to the family.
He missed two weeks of work after Layah's death. Just as the couple were worried about how to cover their bills without that income, they said, he received money from a relief fund that he didn't even realize Lowes had.
People honored Layah with "flowers, oh my gosh, there were flowers everywhere," Lori said. The couple still have all the plants people gave them.
Throughout it all, "Mallori has been a trooper," Lori said. She kept up with school and sports.
Mallori had taken far more pictures of Layah than the couple had realized earlier, and they appreciate that.
They just notice one change in Mallori: She is not as playful and enthusiastic about this pregnancy as she was about the last one, Marcus said.
Both said that knowing it was an act of God brings them peace; if she had died as a result of an accident or crime, it would have been a different story.
"Knowing that nobody did anything to her, knowing that it was natural causes" makes it easier to accept, Marcus said.
"It's like God has given us peace with it," Lori said. Their suffering comes down to "just the fact of missing her, like a void."