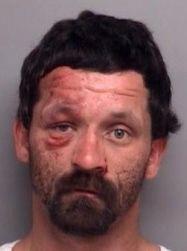 Two Henry County deputies and a patrol car allegedly were struck Sunday morning by a man fleeing a potential arrest.
Charles Jonathan Belcher, 33, of 1163 Jarrett Drive in Bassett faces numerous charges after deputies chased him for about 1.5 miles in Bassett, a Henry County Sheriff's Office release said. Both deputies' injuries were minor.
Deputies were investigating a threat to burn property at 1088 Jarrett Drive in Bassett at about 10:37 when Belcher was identified as a suspect, they said.
A few minutes later, they found Belcher sitting in a vehicle at 1121 Jarrett Drive. Deputies said they talked to Belcher and told him to exit the vehicle to be arrested.
That's when, the report said, Belcher refused to do so, shifted into drive and accelerated quickly.
His vehicle struck a patrol car and two deputies, Lt. T.W. Compton and Deputy C. P. Waddell, the release said.
Deputies pursued the vehicle for about a mile and a half on Jarrett Drive before he lost control, and his vehicle struck an embankment. He was taken into custody without further incident.
He take to Sovah Martinsville, where he was treated and released.
Neither Compton or Waddell required medical treatment.
Two counts of felony assault on law enforcement (2 counts).
Felony destruction of property.
Felony elude law enforcement.
Felony threatening to burn property.Hit and run (misdemeanor).
Obstruction of justice (misdemeanor).
 He being held in the Henry County Jail without bond.