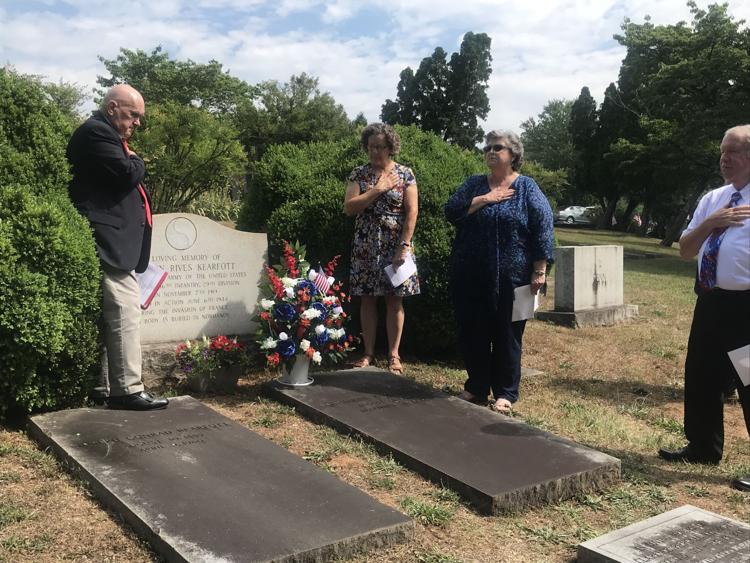 Men who died, and men who survived, the D-Day invasion in France 75 years ago were honored Thursday in a ceremony at Oakwood Cemetery.
Local men who died on D-Day included Lt. Robert Williamson, Sgt. Noel Washburn and First Lt. Benjamin Rives Kearfott. They are buried in France and have memorials to them in Oakwood Cemetery.
This ceremony was held at gravesites of the Kearfott family, where Benjamin Kearfott's memorial stone is.
His next of kin, Mary Kay Washington, who said she was his first cousin once removed, participated in the ceremony and laid a wreath at his memorial.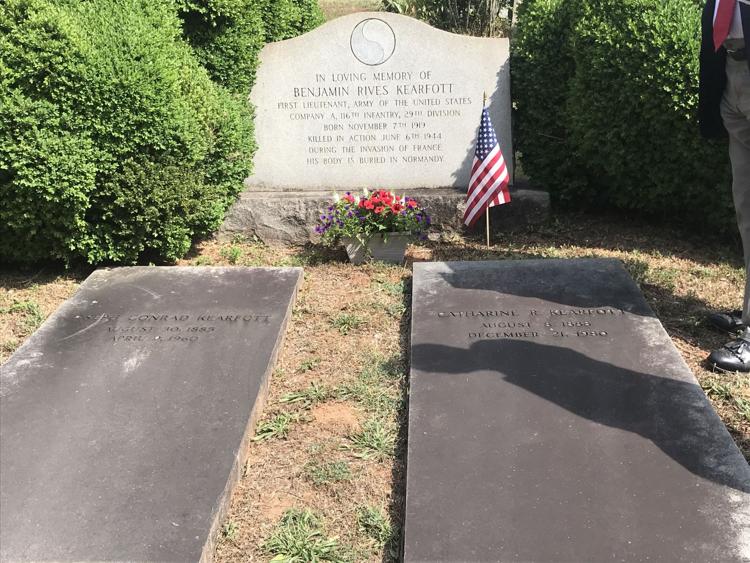 Lucy Davis read a part of the poem "For the Fallen" by Robert Laurence Binyon, published in The Times newspaper in 1914, including "Age shall not weary them, nor the years condemn. At the going down of the sun and in the morning We will remember them."
Lt. W.C. Fowlkes (Ret.) gave a brief history of D-Day. It was "an operation that was probably close to three years in the planning," he said.
By the time soldiers "got to England they knew they were going to be part of a mission … but they didn't know until the day before" what it would be.
"You can just imagine what those soldiers felt when they lowered the gates on those ships" and they were facing the sea, then mountains beyond — all occupied by the enemy.
"They had nothing to protect themselves," Fowlkes said. "Ninety percent of that first wave didn't make it."
Along with carrying 40 to 50 pounds of equipment each, "they didn't realize they also had a good deal of our country's and our world's future on their shoulders."
This region endured many losses at D-Day, because Martinsville's National Guard Company H was heavily involved in that invasion.
The most recent living D-Day veterans also were remembered: Clyde "Windy" England, who died in February, and Glenwood Hankins, who died in 2015.
U.S. Rep. Morgan Griffith (R-Abingdon) read England's name and information into the recent congressional record, Fowlkes said. Griffith was in France Thursday for a D-Day ceremony, where he photographed Kearfott's grave and sent pictures back to Martinsville.
Fowlkes gave a congressional plaque, read and approved on the floor of the U.S. House of Representatives, to England's nephew, Mark Stroud, a former Martinsville city council member. Deborah Slaydon, England's daughter, was not able to come to the ceremony, Fowlkes said.
"Uncle Windy Clyde was very important to all of our family," Stroud said. "He was a fine man."
Fowlkes also recognized the Bassett Historical Center for work it has done to preserve records and stories of veterans.
"It is an honor and privilege to work with veterans," BHC Director Fran Snead said.
Trippi Penn, member of the cemetery's board of directors, read a prayer written by President Franklin D. Roosevelt.
"Success may not come with rushing speed," Penn read. "We shall return again and again, and we know that by the grace and by the righteousness of our cause our sons will triumph. They will be sore tried, by night and by day, without rest — until the victory is won. The darkness will be rent by noise and flame. Men's souls will be shaken with the violences of war.
"For these men are lately drawn from the ways of peace. They fight not for the lust of conquest. They fight to end conquest. They fight to liberate. They fight to let justice arise, and tolerance and goodwill among all thy people."
 Lewis Riddle said that the Oakwood Cemetery board of directors "invite you all to stroll through the cemetery" and see the rich history there.
A member of the Martinsville-Henry County Honor Guard played "Taps."