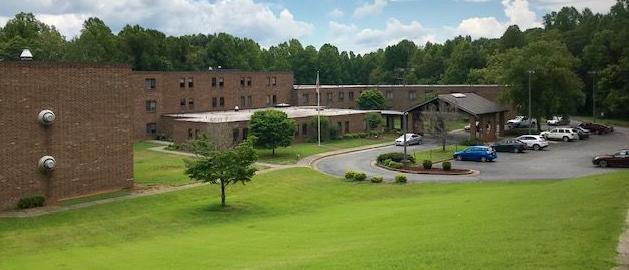 The financial problems that have forced Blue Ridge Manor Nursing Home and Blue Ridge Rehab into receivership are far from the only concerns being addressed at the two facilities.
The state has cited dozens of deficiencies and violations during recent years, ranging from tending to patients' specific needs, to levels of staffing, to maintenance of the facilities, to making sure that temperatures aren't too hot for the hundreds of aging, fragile and infirmed who live there or visit there for treatment.
Nursing Home Compare on the Medicare.gov website gives Blue Ridge Rehab Center an overall rating of two stars out of five.
The number of health violations cited at the facilities slightly outpaces state averages for nursing homes.
And some who have been inside the doors of these facilities describe horrible scenes of neglect and disregard that paint an even more troubling picture of care for those who require assisted living and rehab.
On June 20, Martinsville Circuit Court Judge G. Carter Greer issued an emergency order and appointed a special receiver (or manager), Suzanne Roski, in an effort to keep open the financially struggling Blue Ridge Rehab Center and Blue Ridge Manor, located at 300 and 400 Blue Ridge St. in Martinsville.
Blue Ridge Rehab is a 300-bed facility that, as of July 3, had 231 residents. Blue Ridge Manor has a capacity of 60 and, as of an inspection on May 16, had 38 residents.
Officials with the Virginia Department of Health and Virginia Department of Social Services indicated in court filings that it's important for them to remain open so that residents would not have to be relocated to other facilities.
Greer's action came at the request of OHI Asset Martinsville LLC and OHI Asset Martinsville ALF LLC in a lawsuit they filed against BRVA Properties LLC, BRNURSCO LLC and BRALFCO LLC.
The order identifies OHI Asset Martinsville LLC and OHI Asset Martinsville ALF LLC as the landlords of the 26-acre property. BRVA Properties is named as the tenant and BRNURSCO and BRALFCO LLC as the "defendant operators."
Omega Healthcare Investors, a publicly traded real estate investment company in Hunt Valley, Md., owns the buildings that house Blue Ridge Rehab Center and Blue Ridge Manor, said Robert B. McClintic II, chief executive officer of Kissito Healthcare of Roanoke.
Kissito has an agreement to manage those facilities during the receivership, and, McClintic said, Kissito is seeking to become the permanent licensed operator of the two facilities in a lease arrangement with Omega. The court must approve that.
On Feb. 25, the plaintiffs, among others, terminated the master lease for Blue Ridge, and the defendants have said they do not have the financial ability to continue operating and could not meet their obligation for the payroll that was due on June 2.
As of the date their lease was terminated, the operators owed basic rent of $5,647,059.26, along with other fees specified in the lease, and are delinquent on property taxes of at least $211,430.99. And since that termination holdover rent as of May 31 totaled $2,316,438.70, with that amount accruing at $24,642.96 per day.
Greer will hear from the receiver about next steps in a court hearing scheduled for Tuesday.
Blue Ridge Rehab Center originally was licensed as Commonwealth Health Center, but in 1987 Blue Ridge Nursing Center of Martinsville and Henry County was licensed with 182 beds.
On Jan. 1, 1990, the facility was approved for an additional 108 beds, bringing the total licensed bed count to 300. Effective July 14, 1993, the facility obtained Medicare certification for 120 beds and Medicaid certification for 180 beds, for a total of 300 licensed nursing home beds.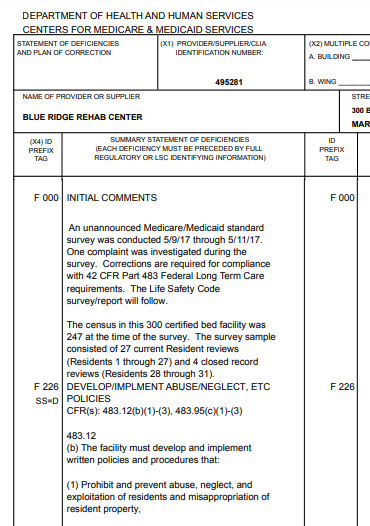 The state's inspection reports that were reviewed, dating back to 2017, detail issues that ranged from condition of facilities, to resident care, record-keeping and required documentation, medication issues, level of staffing, safety, violation of residents' privacy and financial solvency, among others.
The facilities then submitted required plans on how they had or would promptly correct the issues and prevent them from happening again.
Corrective actions included staff training, modifying operations to ensure compliance, improving documentation, improving facilities or facility conditions, hiring extra staff, and other measures to improve patient care, among other things.
Cletisha Lovelace, a spokesperson for the Virginia Department of Social Services, said conditions at Blue Ridge Manor "have not deteriorated.
"The physical plant and overall conditions for the residents residing in the assisted-living facility have not been cited with any severity in recent inspections," she wrote in an email.
Snapshot of information
There is much to be examined about the services provided by these facilities. Some reports are more recent, and the data at times is broad-brushed. Still there are specifics that provide insight about Blue Ridge Rehab Center:
Nursing Home Compare on the Medicare.gov website gives Blue Ridge Rehab an overall rating of two stars (below average) out of five, including these categories: health inspection rating – three stars (average); staffing rating – one star (much below average); and quality measures rating – two stars (below average).
During the most recent health inspection, on June 28, 2018, there were 12 health citations. The average number of health citations in Virginia was 11.7 and nationally 8.0.
Under fire safety inspections, the center has automatic sprinkler system in all required areas, but the most recent standard fire safety inspection, Aug. 7. 2018, the center had five fire safety citations. The average number of fire safety citations was 3.9 in Virginia and 2.9 in the United States.
The average number of residents per day was 231.2, compared with 97.6 in Virginia and 85.7 for the nation.
Total number of licensed nurse staff hours per resident per day at Blue Ridge Rehab Center was 58 minutes, which was significantly less than 1:38 for Virginia and 1:33 for the nation. That included registered nurse hours per resident per day: 8 minutes at Blue Ridge Rehab Center, 35 minutes for Virginia and 40 minutes for the nation. It also included licensed practical nurse/licensed vocational nurse hours per resident per day: 50 minutes for Blue Ridge Rehab Center, 62 minutes for Virginia and 53 minutes for the nation.
Nurse aide hours per resident per day were 1:32 at Blue Ridge Rehab Center, 2:07 for Virginia, and 2:19 for the nation.
Physical therapist staff hours per resident per day were 2 minutes at Blue Ridge Rehab Center, 6 minutes for Virginia and 5 minutes for the nation.
Under quality of resident care, Blue Ridge Rehab Center received an overall rating of two stars (below average), as well as two-star ratings for short-stay (100 days or less) quality of resident care and long-stay (more than 100 days) quality of resident care.

'The place is nasty'
Some who have been inside the doors of Blue Ridge Manor and Blue Ride Rehab describe ugly and "awful" conditions under which residents are cared.
Two people spoke to the Bulletin about what they had witnessed. The Bulletin has verified their identities, but those names are being withheld because of feared repercussions.
One resident even said she feared the possibility of lease termination after an administrator indicated to her she would get in big trouble if she told her name publicly in expressing her concerns. Other residents contacted directly by the Bulletin or through an intermediary did not respond.
Calls to April Patrick, administrator at Blue Ridge Rehab Center, went unanswered. Adrian Watlington, administrator at Blue Ridge Manor, declined to comment, and she referred questions to McClintic of Kissito.
One woman told the Bulletin said she has lived at Blue Ridge Manor for several years. She said her monthly rent/fee is $4,300.
"It's awful," she said. "We have people in Blue Ridge Manor that have severe dementia and some have severe Alzheimer's. They are supposed to be in a nursing home, not in an assisted-living facility. They require one hundred percent care. She said a number of residents need direct care of two employees at times, and when that happens, there's not enough staff available to help other residents who may need help.
"The place is nasty. My bathroom has never been cleaned. ... My toilet has yet to see Clorox," she said. "They do spray deodorizer in rooms and bathrooms and halls."
She said things have broken and they were not fixed or not fixed in a timely manner. "The refrigerator in the kitchen is broken again. … Two exhaust fans on the roof, one has been broken for three years. That's ridiculous," she said.
"I have shed tears here. I allowed myself to be hoodwinked," she said. "It's a nightmare I could never have imagined."
Said Lovelace: "Based on the most recent inspections, staff-to-resident ratio has not been reduced, and payroll for all employees of the assisted living facility is up to date."
An Axton man who said he has visited Blue Grass Rehab Center on an ongoing basis for years to bring cheer to the residents said he has seen people still in wet clothes, smelly, with stains where they used the bathroom on themselves. "It's horrible," he said.
In some areas of the facility, he said, "the smell would about knock you down."
Those descriptions match details in some violations noted in state inspection reports, but Kim Beazley, deputy director of the Virginia Department of Health's Office of Licensure and Certification, wrote in an email that survey [inspection] reports for Blue Ridge Rehab Center indicate "the facility has not been cited for any substandard quality of care or quality of life issues in the last five years.
"The facility is required to maintain compliance with all local, state and federal regulations. At this time, we anticipate the facility continuing operations.
"Services are continuing to be provided under the management of the appointed receiver and operator."
'Needs TLC'
The issues faced by the facilities are both immediate and long-term. Court documents reveal that the skilled nursing facility is at risk of losing its local business license. Because of a broken walk-in refrigerator required renting a refrigerator outside the building, Medicare regulations were violated. Vendors placed the facility on a cash-on-a delivery payment system because of defaults on accounts.
McClintic said that his company is working to make improvements, for example making sure vendors are paid timely and that they are providing supplies, establishing relationships.
He said Kissito has increased the staff at Blue Ridge Rehab Center to make sure residents are being cared for, but he couldn't say how many employees have been hired.
He said he feels "the biggest need is at Blue Ridge Rehab Center. We want to improve staffing, improve care … [do] physical plant improvements. We're in this for the long run."
He also said Kissito is focusing on improving air conditioning so that it will work more efficiently. A walk-in freezer will be replaced. It is on order and will be replaced in a couple of weeks. Painting, furniture and carpet are some of the other improvements planned, he said.
"It needs some TLC [tender loving care]," he said. "We want to provide great quality care."