editor's pick
spotlight
featured
Martinsville library offers "A Night of Hope"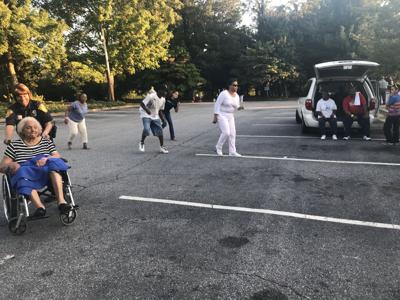 MARTINSVILLE – The parking lot of the Martinsville Library was alive with activity Monday evening.
It was "A Night of Hope," an event which provided information, resources and support for people whose lives have been impacted by cancer.
People danced to the music played by DJ Sandman (Tim Pharr), ate deep-fried Twinkies and Oreos and picked up information at booths. As the sky drew dark, luminaries in a row on the ground in the curve of the parking lot garden shone brightly.
All of the luminaria were decorated with the names of cancer survivors and people who had lost the fight with cancer. Visitors were able to make luminaria at one of the booths.
"I wanted to do this program because I know that there are so many people in this community whose lives have been impacted by cancer," said Leandio Gravely, who organized the event.
"Sometimes it's that coming together and sharing of stories that aid in the healing process. 'A Night of Hope' is actually a play on words. It reminds that even when you find yourself in a night situation, remember to look for the stars. They symbolize the hope which ultimately makes things brighter," he said.
Information given out included about resources, events and fundraisers.
- 'Fashion a Cure:' Michelle Graham will host "Fashion a Cure" at 4 p.m. Sunday, Nov. 4, at the Dutch Inn. The event is billed as "an evening of fun, fashion and fundraising." It will feature hors d'oeuvres, a cash bar, shopping and a show. Admission costs $20 general and $40 "Purple Reserved."
- 'Plunge for a Cure:' "Plunge for a Cure" is a fundraiser for American Cancer Society. It will be held on Saturday, Nov. 17, at Philpott Lake, Goosepoint Park, 4780 Goose Point, Bassett, with registration at 12:30 p.m. and the first plunge at 1:30 p.m. It ends at 4:30 p.m. The cost is $25 to take the plunge; those who raise $50 get a T-shirt.
- Bingo: The We're All In Relay for Life team will host Alex and Ani Bingo Friday, Nov. 16, at the Collinsville YMCA. Admission will start at 5:30 p.m., and the games will start at 6:30 p.m. The event will feature door prizes, a 50/50 drawing and snacks. The cost is $20 for adults and $10 for children, who must be accompanied by adults.
- Book sale: The Friends of the Library will hold their next book sale from 9:30 a.m. to 2 p.m. Saturday, Nov. 3, in the basement of the Martinsville Library. During Monday's event, they gave away books.
- Wigs: Ella Mae Wickham of Wigs Unlimited & Cottage Salon on Broad Street had a display of several wigs. Many people don't realize that insurance usually pays for wigs for people who have lost their hair due to medical reasons, she said.
- Wellness program: Massey Cancer Center of Virginia Commonwealth University has several resources. They include: "Living Well @ the Y, Making Better Choices for Everyday Life" from noon to 1 p.m. the second Tuesday of every month, except for July and December, at the Danville YMCA, 215 Riverside Drive, Danville. Register by calling (434) 421-3060 by 5 p.m. the day before for lunch.
- Testing: The Massey Cancer Center recommends getting tested for breast cancer by age 40; cervical cancer by 21, colorectal cancer by 50, lung cancer between 55-74 and prostate cancer by age 50.
- Research: The Massey Cancer Center invites people to participate in "The Virginia Living Well Research and Registry," a study about how lifestyle and environment in different parts of Virginia are related to cancer risks. Participants give information about their health and lifestyle and a spit sample. For more information, call (434) 421-3060 or email va.livingwell@vcuhealth.org.
- Assistance: Joyce Eggleston of Ladies First, part of MHC Coalition for Health and Wellness, gave out information. Ladies First is a mammography assistance program and community breast health initiative that makes getting breast cancer screening easier for women with low incomes. HealthConnect Center is a "one-stop shop" for health care needs. Its office is at 56 W. Church St., and the phone number is 638-0787. The Coalition operates two federally qualified healt centers, Bassett Family Practice at 324 T.B. Stanley Highway, Bassett, and 4944 Greensboro Road, Ridgeway.
- Men: Men can get breast cancer too, advised pamphlets Eggleston was giving out. About 2,000 cases of breast cancer are diagnosed in men and more than 400 men will die from breast cancer each year, they warn. The pamphlets urge men who notice any changes in the chest area to consult their doctors.
- Liver cancer: For people who have liver cancer, said a volunteer at the Friends of the Library table, support is in the form of Blue Faery: The Adrienne Wilson Liver Cancer Association. The group helps primary liver cancer patients and their caregivers.