MARTINSVILLE – Imagine the five-way intersection of Memorial Boulevard, West Church Street and Fayette Street no longer having stop lights to control traffic flow, but instead a large roundabout.
It's one of the busiest junctions in Martinsville-Henry County. Vehicle counts show that between 10,000 and 12,000 cars per day usually pass through it.
Even with the high traffic volume, a city official and a consultant agree that installing a roundabout – also known as a traffic circle – at the intersection could improve traffic flow there and help pedestrians cross the roads.
"I personally love the idea," said Martinsville Zoning Administrator and Community Planner Susan McCulloch. She recalled seeing roundabouts used not only on roads and streets in small communities, but also along major highways in large cities such as Virginia Beach.
"They're very smooth" in terms of traffic flow, McCulloch said.
The intersection in Martinsville is "a serious contender" for a roundabout, said Dan Hardy, a principal in Renaissance Planning, a local government consulting firm in Durham, N.C., working with Martinsville officials on efforts to make improvements to Fayette Street and nearby areas.
The traffic volume there is "well within the capacity of a roundabout," Hardy said.
With one, "traffic moves consistently," he said, although "you may have to wait your turn" for a few moments before entering the circle.
But the Virginia Department of Transportation (VDOT) will have to examine the idea and cost factors thoroughly before installing a roundabout at the intersection is considered, McCulloch and Hardy said.
Hardy noted that there could be factors that would make a roundabout there ineffective. For example, he mentioned the inclines on both sides of Memorial just before the intersection that make it hard to see from afar.
The roundabout idea came up during one of three public meetings held Wednesday to gauge people's ideas for improving Martinsville's west side. Between the meetings, Renaissance staff members toured the street, led by McCulloch, and took photos and notes, despite rain that fell during much of the day.
Now, "we know of (street) drainage issues that we might not otherwise know" about, Hardy quipped.
Roughly 25 area residents participated in the meetings. Based on the comments heard, "it is obvious" that residents and others with connections to the west side feel a closeness to the district and want to see meaningful improvements there, said Mia Candy, a planner with the consulting firm.
Renaissance's initial focus is on developing safety improvements. The city plans to apply for a VDOT "Smart Scale" grant to help make the improvements.
"You can do a lot for safety that really doesn't cost a lot," Hardy said. But a common vision for the west side first must be created, he said, to be able to determine what safety improvements are appropriate from a visual standpoint. He mentioned, for instance, that yellow paint frequently used in traffic markings may complement certain types of aesthetic and structural improvements and not others.
Wednesday's meetings were intended to get the project moving full steam ahead.
It seems, though, that similar efforts were launched in the past and eventually shelved, said the Rev. Tyler C. Millner Sr., who is the pastor of an Axton church and an activist for the local African-American community. The west side is a largely minority neighborhood.
"I don't want that to happen" to this effort, Millner said.
Speeding traffic in the Fayette Street area, as well as parking along that street, were issues that arose during the meetings.
Lawrence Mitchell, who lives on the west side, said there have been a lot of wrecks at the Second Street/Fayette Street intersection. Joe Bonanno, a transportation planner with the West Piedmont Planning District Commission, said the intersection is considered to be "a safety hot spot."
Officials indicated that Fayette seems unusually wide for a two-lane road.
"Wide roads lend themselves to speed," Bonanno said, because people tend to be more comfortable with such roads, and they tend to drive based on their comfort levels and not necessarily speed limits.
Because several churches are along Fayette, large numbers of cars are periodically parked along the street.
"You could always have someone who walks out from between the (parked) cars" and gets struck by an oncoming vehicle, said the Rev. Gene Anderson, pastor of St. Paul's Episcopal Church.
Fayette could be narrowed, Hardy said. That would help people to realize they cannot speed or pass other vehicles that have slowed or stopped, he said.
Beaver Street, which runs between Fayette and Memorial, was another topic of discussion. Officials have said the residential street sees a fair number of speeding vehicles that use it as a cut-through. For that reason, they are considering making it a "cul-de-sac," a dead end with a turnaround point.
Adding speed bumps along Beaver also would help protect children living there, Mitchell said. That is a good idea, Hardy replied.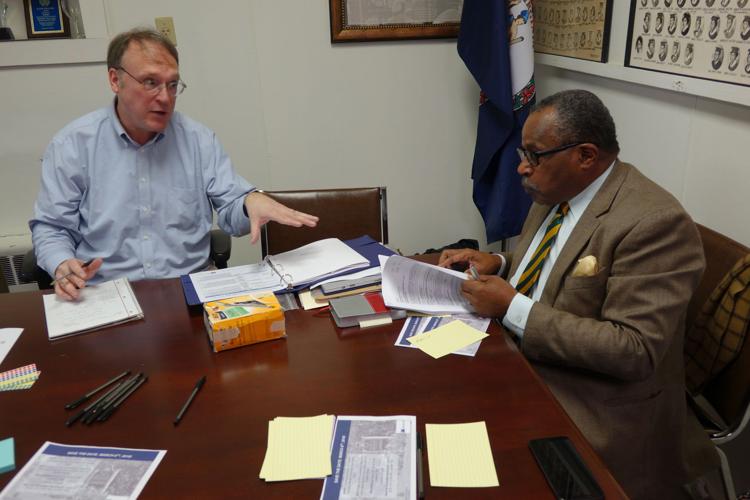 A major part of west side improvement efforts is redeveloping the dilapidated former Paradise Inn on Fayette into a "healthy hub" containing a restaurant or store where residents can go to buy healthy foods, as well as a placed to learn how to prepare such foods for themselves. The west side has been described as a "food desert" because it lacks a full-service grocery store or restaurant.
Consultants, with help from the U.S. Environmental Protection Agency and numerous area residents who participated in previous public meetings, have developed a two-phase plan to establish the hub as part of the agency's "Local Foods, Local Places" initiatives.
Phase 1 involves redeveloping the dilapidated, three-level historic building into a facility with a first-floor restaurant serving healthy meals, preferably prepared with fruits and vegetables grown by area farmers. The restaurant would have outdoor deck seating and an entertainment area.
Phase 2 involves expanding the facility into as many as three new buildings that would be erected on an adjacent city-owned site, as well as developing a community garden and a hydroponics center where produce can be grown without soil.
Hardy asked if residents are comfortable with that plan.
"It seems to be a workable solution," said Billie Coles, who attended one of the meetings. A healthy hub is "something that the community could use," she added.
The former inn is considered to be a local historic structure because prominent singers and musicians of decades ago are believed to have performed there, or at least visited. Because that has not been proven, however, efforts to get the building listed on state and national registers of historic places have failed.
Any effort to preserve the building should include preserving its historical character because that "contributes to the inspiration of the community," Millner said.
That is the goal, Hardy said.
Millner mentioned he has heard nearby residents say they want whatever development occurs at the former inn to be of a magnitude that increases their property values.
"It's not going to be a Starbucks," replied Hardy, referring to a chain of upscale coffee shops, but rather something positive for the neighborhood.
The city is to receive $75,000 from the Appalachian Regional Commission (ARC) to put toward efforts to redevelop the property.
The ARC is a federal-state partnership involved in efforts to develop the economy and improve quality of life in communities along and near the Appalachian Mountains.
Martinsville's grant is one of 10 totaling slightly more than $3.14 million that Gov. Terry McAuliffe is recommending be awarded to projects in the region. ARC officials will meet later this year to officially approve the grants
The public meetings were held at the Fayette Area Historical Initiative, the New College Institute (NCI) and St. Paul's Episcopal, all of which are on Fayette Street.