editor's pick
spotlight
featured
top story
Start Your Engines: Students get behind the wheel for an iRacing test drive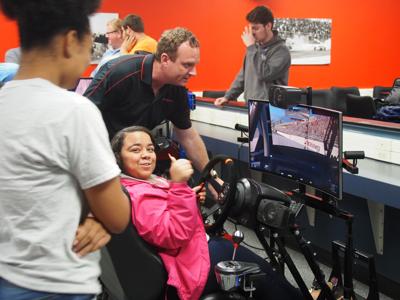 RIDGEWAY-The rain may have been pouring outside, but all the racing action at Martinsville Speedway was going on in the media center Wednesday. Students from Magna Vista and Martinsville High Schools, as well as Patrick Henry Community College, got some first-hand experience of what it's like to drive The Paperclip from a NASCAR Cup Series rookie.
Hendricks Motorsports Driver William Byron came by the Speedway to give a demonstration of iRacing, an online racing simulator he used when climbing the ranks of NASCAR, and still uses often to get ready for each track on the Cup Series circuit.
IRacing was a project that began more than two decades ago, and formed in 2008 with the goal of having "the most authentic racing experience available to not only racecar drivers but also the general public," according to Director of Sales and Marketing Otto Szebeni, who joined Wednesday's event via video chat.
"(People) really wanted to know what it was like to race cars of all different type and genres from all over the world and do online racing in one location," Szebeni said. "It's the most realistic racing online simulation available to the general public."
The simulation goes beyond a regular video game. Participants aren't pretending to be various drivers, but instead make their own cars, choose their own paint schemes, and can race in circuits from around the world, including NASCAR and IndyCar tracks and road courses like VIR in South Boston.
Szebeni said the company partners with race teams, tracks and manufacturers and has vehicle dynamic engineers with previous race team experience who take measurements and photos of cars, laser scan tracks to millimeter accuracy, and build cars from the ground up. The specifications are so exact Szebani said it typically takes about six months to create new content for the races.
Once a new driver chooses their track and cars, they can join races online against people all over the world who have a similar skill level. Players can even move up in different series, and Szebani said the upper level iRacing drivers can even have crew chiefs, spotters and guys who test for them, just like a real driver.
"It may not be exact," Szebani said. "But it's as close as you're going to get to hopping into a real car."
The 20-year-old Byron has only been racing actual cars for about six years, but the avid racing fan grew up playing video games like NASCAR Heat, and starting hearing about iRacing around the time it came out from Dale Earnhardt Jr., Landon Cassill and other drivers who spoke of the game in the media.
Byron quickly found that he was something of a whiz on the car simulations, and turned his success behind the computer screen into success behind the wheel. He drove Legends Cars, Late Models for JR Motorsports, including at Martinsville Speedway, and eventually moved up to the NASCAR Xfinity Series where he won a championship last year.
"My parents when I was a kid were always like 'why are you always on this game all the time just racing? Why don't you get outside and do something?' so it's funny that I've kind of made it a career," Byron said Wednesday. "Every step was a kind of different challenge but obviously I was very fortunate that the skills I had in the game translated and I was able to apply it."
Byron and NASCAR Ignite Series Champion Zack Novak, who is also trying to get into the sport through iRacing, raced against one another Wednesday in front of the group. They raced Cup Series cars on the virtual Paperclip before letting students give the system a try.
First in the seat was Martinsville High School student Sam Haskew, who got some one-and-one coaching from the Cup Series rookie.
"It was very interesting to have a NASCAR driver teach me how to drive," Haskew said. "He was just giving me suggestions on how to handle the throttle and how to brake and keep oversteer from happening, keep understeer from happening, how to shift correctly in the simulator… It was much harder. The sim is very realistic, it's not forgiving at all."
Haskew was one of the few students there Wednesday who had heard of iRacing before. As a fan of motorsports, he said getting a chance to try the simulator first hand gives him a goal of finding a place in racing one day too.
"It makes me hopeful that maybe I can get into motorsports in some way, maybe by making my own iRacing simulator and moving up the ranks myself," he said. "It gives me a lot of motivation that it is possible to start with this and move up to the highest ranks of motorsports."
Magna Vista IT/RT teacher Elizabeth Russell said that motivation was a lot of what she hoped her students would get out of Wednesday's event as well. She teaches the Warriors "Tech Squad" students who are interested in technology and the integration of technology.
"You can be like William Byron and start out just playing a video game and then go from there," Russell said. "It's not just a video game geek, it has real life applications, not just in racing but in other things. You get to practice, you get the simulation and you can step up. Obviously there's a big jump between the two but at least you've got the background to give yourself a chance at it. So that's pretty cool, it's pretty awesome. I think it'll turn some of them on."
Martinsville Speedway introduces students to iRacing
Students from Martinsville and Henry County went to the Martinsville Speedway Wednesday to learn about the iRacing program. 
The event was the brainchild of Martinsville Speedway media members Harrison Hamlet and Brooks Taylor, according to Speedway President Clay Campbell. The hope is that it will not only attract a younger audience to the sport, but also show them there's a lot more to NASCAR than just driving.
"I think it's great to get the youth in the area involved," Campbell said. "Everybody grows up playing football, baseball, basketball but they don't racing so things like this gets them involved, gets them to understand what this sport is all about and having a young driver like William Byron who they can relate to, they think 'hey he's not much older than we are. If he can do it, we can do it.' So I think it's pretty cool.
"There's so many different ways you can get involved in NASCAR, and this is just another way of doing it. There's so many different aspects of it. You don't have to be a driver. You can be an engineer, on and on and on. I think probably NASCAR has more roles to fill to make this industry work than any other sport on the planet. And this is just one way of showing that."
Some of the students there Wednesday didn't even have a driver's license yet, and had never driven anything. But Byron is used to being young behind the wheel as well, and was a good instructor.
"It doesn't feel like driving my Honda," said Magna Vista student Logan Mann. "I've never driven a stick shift before so that was a little different. I'm just used to putting the car in D."
"Actually getting the feel of what it's like inside a car is really fun," said Magna Vista student Blake Smith. "Where I drive now it's totally different because you actually have the gears to change, you have to mess with the clutch and then you're just learning the aspects of what a small track is like, like Martinsville… I've grown up racing dirt bikes but I've never been inside a car like this so I would really like to try it again."
So how close is it to an actual racecar?
"It's pretty close. The only thing that's different is the motion and kind of the fear factor too" Byron said. "That's obvious. If you're going to hit a wall at 200 it feels a little different."