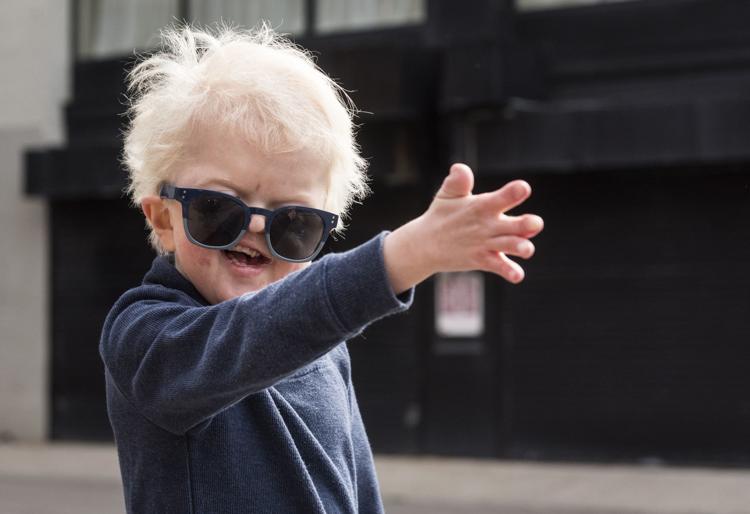 WINSTON-SALEM, N.C. — Cameron Elliott loves Boston. But mostly, he loves traveling there.
While trips are done out of medical necessity for the young Winston-Salem resident, he sees them as an opportunity to indulge in the joys of getting from place to place.
Flights out of Charlotte Douglas and Boston Logan airports, train rides to and from Boston Children's Hospital at Waltham, duck boat tours on the Charles River and Uber rides when walking to Boston Children's Hospital is just too far, it's an overwhelming, joyful experience for Cam.
He'll even direct the local traffic.
Standing on the curb outside a restaurant in Cambridge in late March, Cam takes it upon himself to make sure motorists get where they need to safely — while frequently getting a little too close to the street for the comfort of his mother, Jessica.
Cam stands just shy of 4 feet tall, but most passersby notice the thick, blue frame of his glasses, a large grin, enthusiastic waving and light blond, wispy hair.
"Go to two!" he'll shout to cars, pointing to a spot that he's dubbed traffic cone No. 2. It's a game he loves to play back at home in the living room, telling people at which cone or stop to stand.
But Cam didn't travel hundreds of miles from home just to tell people where to park.
Cam has Apert syndrome, a rare genetic disorder that affects the shape and formation of his skull, hands and feet. It is a type of craniofacial syndrome that affects the physical development of those who have it.
While there has been more understanding in recent years of what the disorder is, how to diagnosis it and advances in medical care, it's still relatively unknown to the general public.
It occurs in one out of every 60,000 to 80,000 births, according to Boston Children's Hospital.
To date, Cam has had 15 surgeries. He turned 8 in mid-August.
But the condition and the plethora of medical issues that Cam has endured since birth have not stopped him from being like any other kid his age.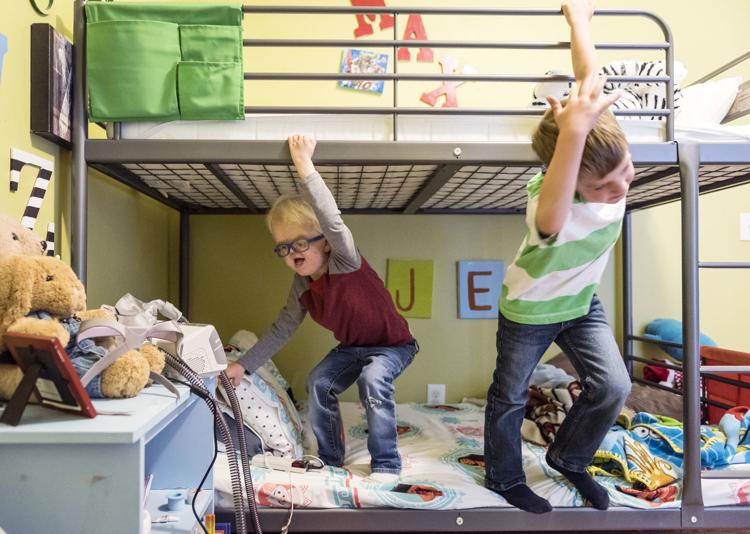 In addition to traveling, he also loves — to name a few things — numbers, "Peppa Pig," playing with his younger brother Max, street performers and yoga. His mom can rattle off a number of yoga positions and Cam will smoothly and effortlessly perform them, without pause, in the middle of the living room, finishing with hands in front of his heart and an enthusiastic "Namaste."
Jessica is taking her experiences with Cam — learning what Apert syndrome is, how to raise a child with the condition and navigating the onslaught of medical procedures — to help other families try to better understand and live with Apert.
"My hope is that through this people can see that because people are different doesn't make them any less — and that Cameron is different, but he's not less," she said.
Early days
In 2010, Jessica and Paul Elliott were getting ready to be first-time parents in Boone, where they met while attending Appalachian State University. Jessica was born and raised in the area.
It was during a doctor's visit, around 24 weeks into the pregnancy, that she first heard about Apert syndrome. At 25 weeks, it was confirmed that her unborn child had it.
It was first seen in an ultrasound, but verified with an MRI.
A genetic counselor at Wake Forest Baptist Medical Center had recently attended a conference in France and found out about Apert syndrome, Jessica said.
Had that counselor not discovered what Apert syndrome was during that visit, it's possible Jessica and Paul would not have found out about their child's condition until after his birth.
"It was my first pregnancy, I was 24; it was definitely devastating for us at the time," Jessica said. "But after I let myself have a pity party for a week or so I figured I needed to do whatever I needed to do to figure out how to best serve this baby."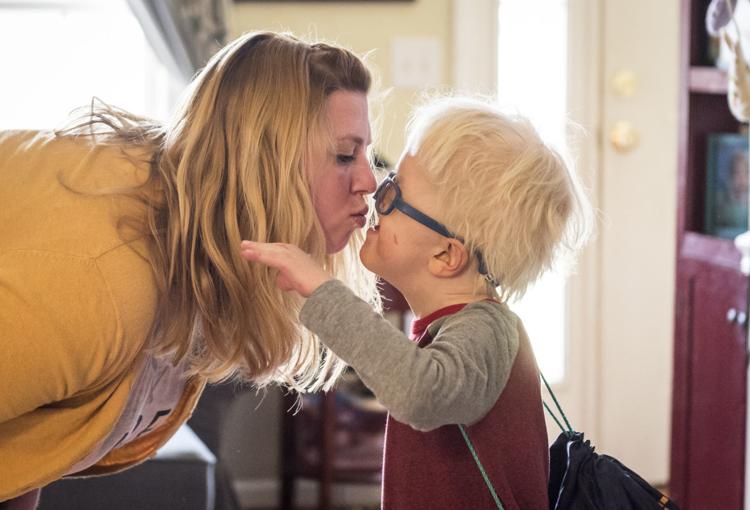 She quickly learned there wasn't much information available at the time. But she did what she could to prepare for her first child.
Cam was born on Aug. 15, 2010. And just four days later he had his first surgery.
The majority of his surgeries have been what they expected for Apert syndrome, such as craniofacial procedures and separations of the fingers and toes.
Apert syndrome is a condition where the the skull fuses prematurely, said Dr. John Meara, one of the physicians at Boston Children's Hospital who Cam sees regularly.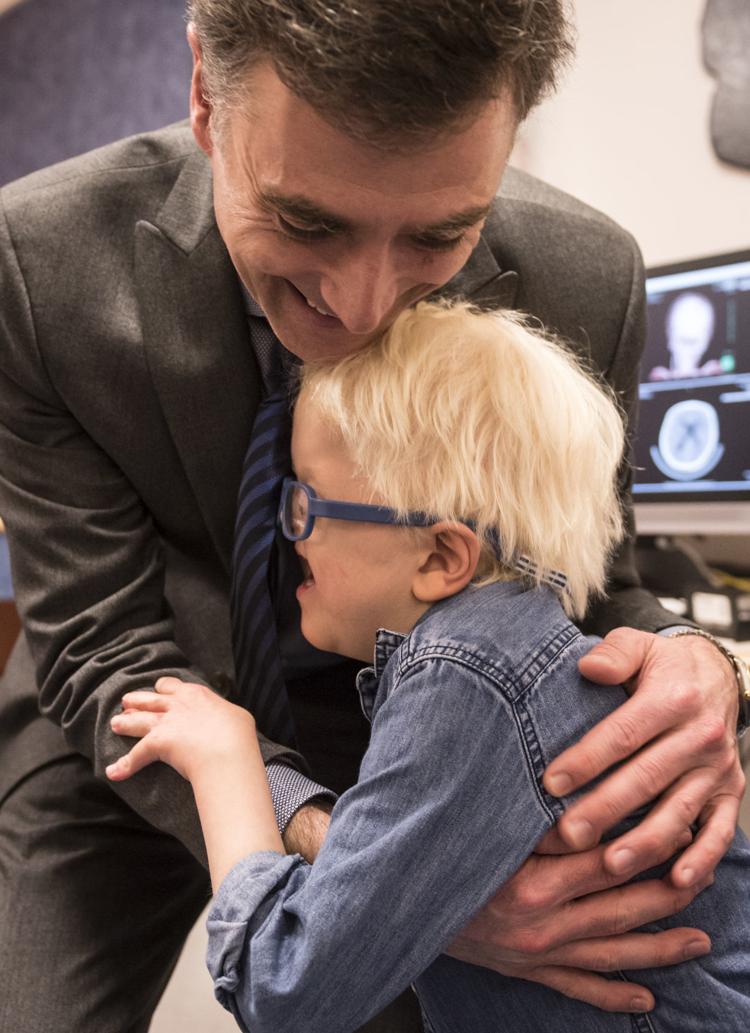 "Most people think that in your head you just have one bone, but it's several bones that fit together, and if they fuse too early, that can be a problem," he said. "The head shape can be abnormal, it doesn't allow enough expansion and room for the brain and that can cause raised pressure inside called raised intracranial pressure."
For Cam and others with this condition, the physical malformation of the front of the face — known as midfacial hypoplasia — can lead to respiratory issues. Cam uses a Continuous Positive Airway Pressure, or CPAP, machine to help him breathe and sleep better at night.
His teeth are misaligned, which is also common with Apert syndrome, Meara said.
But there were a few surgeries Jessica and Paul were not expecting, some not completely uncommon for children with Apert syndrome.
Cam was born with a malrotation or twisting of his intestines, which required surgery to repair. And before that, days after his birth, doctors discovered his esophagus was separated from his stomach.
"It was rushed, like I pretty much had to sign papers saying if your child does not have this he will die," Jessica said. "So that was intense."
On top of that, Cam has had two open heart surgeries and a procedure to place a heart catheter.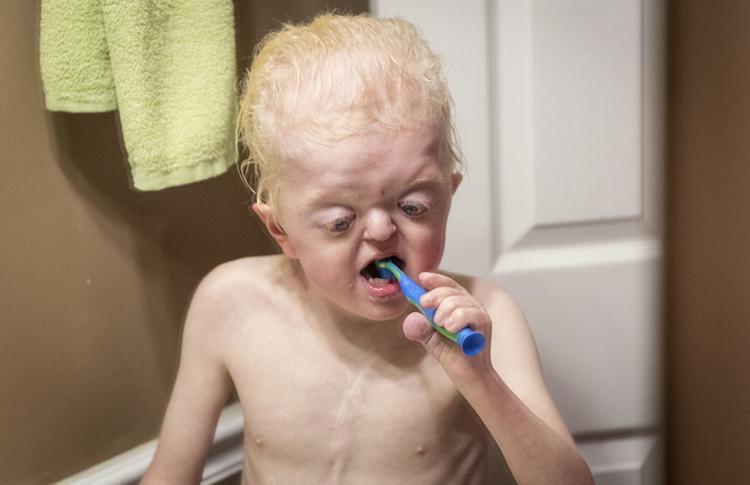 "With Apert patients, it is not necessarily common to have cardiac or digestive (issues), but it is not unheard of," said Meara.
These additional medical issues in Cam's younger years were "ridiculously terrifying," Jessica said.
"We were already dealing with the surgeries we knew he would require with the syndrome, and then to have — I mean it's almost like a whole other diagnosis," Jessica said. "Having a kid who needs an open heart surgery, like it was definitely difficult to hear that."
At first, the family went to Wake Forest Baptist Medical Center, as there were more resources in Winston-Salem than Boone. This prompted the family's move to the Triad when Cam was 3 years old.
He's had a number of procedures done at Baptist, including his first craniofacial procedure at 6 months old, an orbital advancement procedure to help reshape that portion of his skull.
But after some more research into which hospitals would have the best care and practices specifically for Apert syndrome, Boston Children's Hospital, one of the largest pediatric medical centers in the country, was the clear choice for Jessica.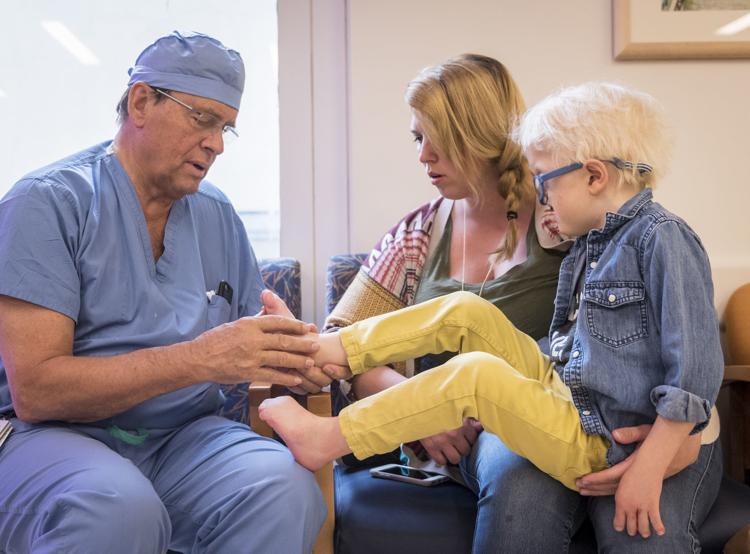 There, Cam has had heart, craniofacial and finger separation procedures.
His last surgery, his second craniofacial operation, was in July 2016, in Boston, giving him all of 2017 and 2018 to this point surgery free.
But even in times with or without surgeries, Cam goes to occupational, speech and physical therapies. Hospital and doctor's visits have become a way of life for Cam.
"We live a new normal," Jessica said. "Things aren't not normal for us anymore. Like, I wouldn't know what it would be like not to take — like today, I took Cam to therapy; that's normal. That's always been part of Cam's life is therapy, it's always been a part of his life."
In patients with Apert syndrome, the fingers and toes are attached to each other, a condition called syndactyly.
Sometimes the hands, if it's a more mild case, look like mittens. In other more serious cases, fingers are bunched together.
Fortunately Cam has the least severe case as far as his hands are concerned. Dr. Joseph Upton, another doctor at Boston Children's Hospital, said Cam's hands are about as good as they come for people with Apert syndrome.
"His hands are fabulous," Upton said.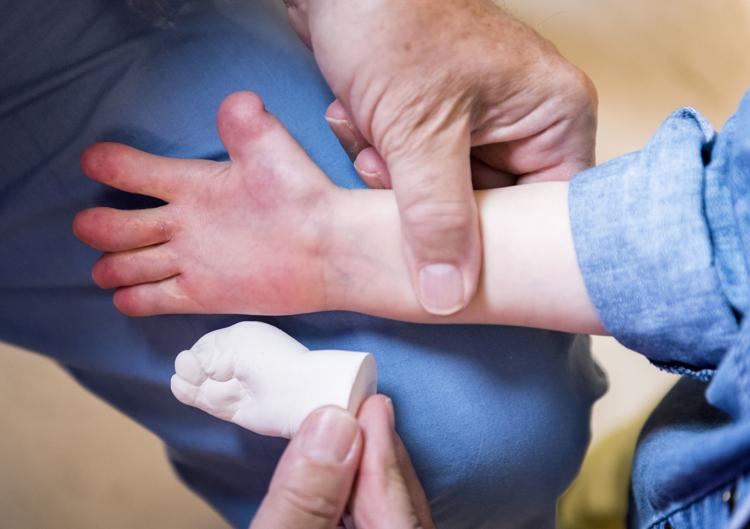 Even though his fingers on both hands have been separated, Cam will still need more surgeries on them — as well as his feet to separate his toes. One of those surgeries Upton is discussing with Jessica is to have Cam's thumbs straightened and lengthened, which will be done through pins.
In many cases, treatment of the hands of Apert syndrome patients can get neglected, seen as secondary to treating the skull, Upton said. But they're just as important.
His toughest surgery
Cam has muscled through every procedure he's had so far, Jessica said, as if each one was just a normal thing for a young kid to check off his list of life experiences.
He's recovered quickly from many of them, tough like a tank, she said.
But one of the hardest surgeries on the family, and on her, was to Cam's left eye.
Because of the shape of Cam's skull, his eyes are less protected, leaving them more susceptible to injury.
What is probably most noticeable is the abnormal protrusion of his eyes, known as proptosis. While it looks like Cam and others with Apert syndrome have larger than normal eyes, they don't.
"Eye protection can be a problem if your forehead doesn't grow out properly," Meara said.
In February 2016, a 5-year old Cam was running around the living room, playing like any other kid his age would, when he tripped and tumbled to the ground.
But because his eyes are not as well protected by the skull, it resulted in a severe injury.
At first, Jessica said the best way to describe it was that it looked as though his eyelid had just flipped out. Cam was in pain.
They took him to Baptist's emergency room, figuring the doctors could just go into the operating room, put Cam under and flip it back.
It was there they learned the retina in Cam's left eye had detached, leaving him permanently blind in that eye.
There are times since then when Cam will trip, fall or bump his head. It sends his parents into panic mode.
One summer evening, Cam was sitting in the dining room in a small plastic chair watching YouTube videos on his dad's phone. He fell out of the chair but quickly caught himself.
But before he could say "I slipped," Paul was already off the couch and about to run into the kitchen to make sure Cam was OK.
Cam sat back in his plastic chair and kept watching where he left off like nothing happened.
That incident in 2016 and trip to the hospital was one of the toughest moments in Cam's life for Jessica. Hearing that, after all her young child had already been through, a simple fall would leave him blind in one eye, was too much.
It was unfair, and it broke her heart, she said.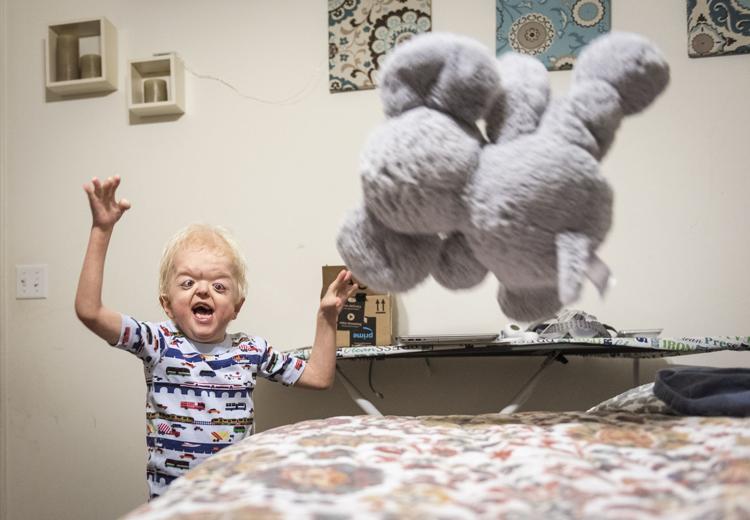 "And it just seemed so senseless. It seems so senseless," she said. "Like, how unfair is that that this kid goes through all this stuff and then he falls like every other kid in America falls in their house playing —"
"— I got all the trucks," Cam said, interrupting his mom's story.
"I got all the trucks," he repeats.
As his mother is describing her toughest memories, Cam's focus is on his trucks, which he has lined up on the living room floor.
Jessica acknowledges his feat, and then notices Cam's glasses, which have an elastic, adjustable band to keep them in place, are slipping off his nose and sliding down his face.
She asks Cam to tighten them; they're almost like goggles. The glasses both help him see out of his one good eye and protect his eyes at the same time.
He declined to have the strap tightened, and went about his business.
Cam was able to keep his left eye, a blessing. 
"That was ridiculously horrible," Jessica said. "But again, this kid, he didn't even skip a beat."
No simple routines
Cam's bedtime routine is more complicated and involved than for other kids his age.
He has a bath, brushes his teeth, slips into his favorite pajamas — sometimes they've got trucks and trains on them, other times Disney characters — and does the usual protest of any other kid with their mom or dad to stay up just a little longer.
But Cam's slower physical development makes it difficult for him to do those first few on his own, which most kids around his age can do.
Jessica still helps with undressing, bathing and dressing, but he'll soon be able to do these things on his own. It just takes time.
For now, Cam will take advantage of the opportunity to slosh some bathwater around the tub, laughing when his mom gets splashed.
What makes his bedtime routine so different than most others is what happens right before going to sleep.
Every night, they have to cover his eyes, for protection, and apply a breathing apparatus.
Before a special tape is placed over his closed eyelids, Jessica puts an ointment in Cam's eyes, much thicker and more viscous than eye drops.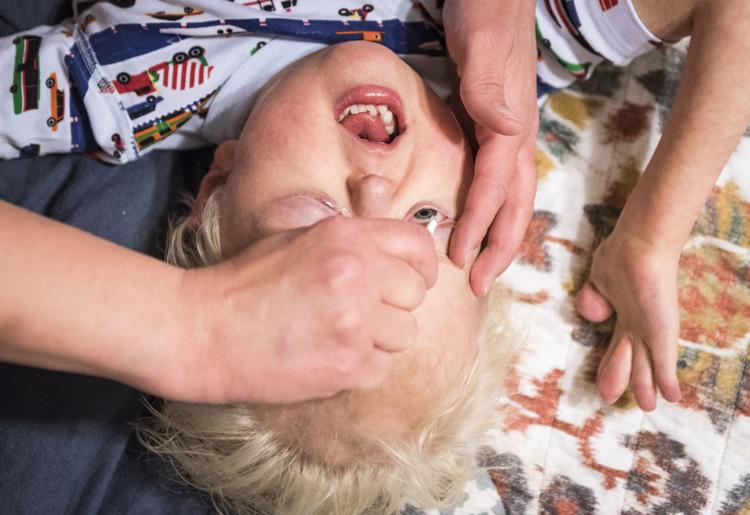 It helps his eyes stay lubricated since more of the eye is exposed outside of the socket than usual.
He needs help getting his CPAP machine set up, too. A strap covers most of his head, and the plastic mouthpiece covers his mouth and nose with a hose connecting to the machine.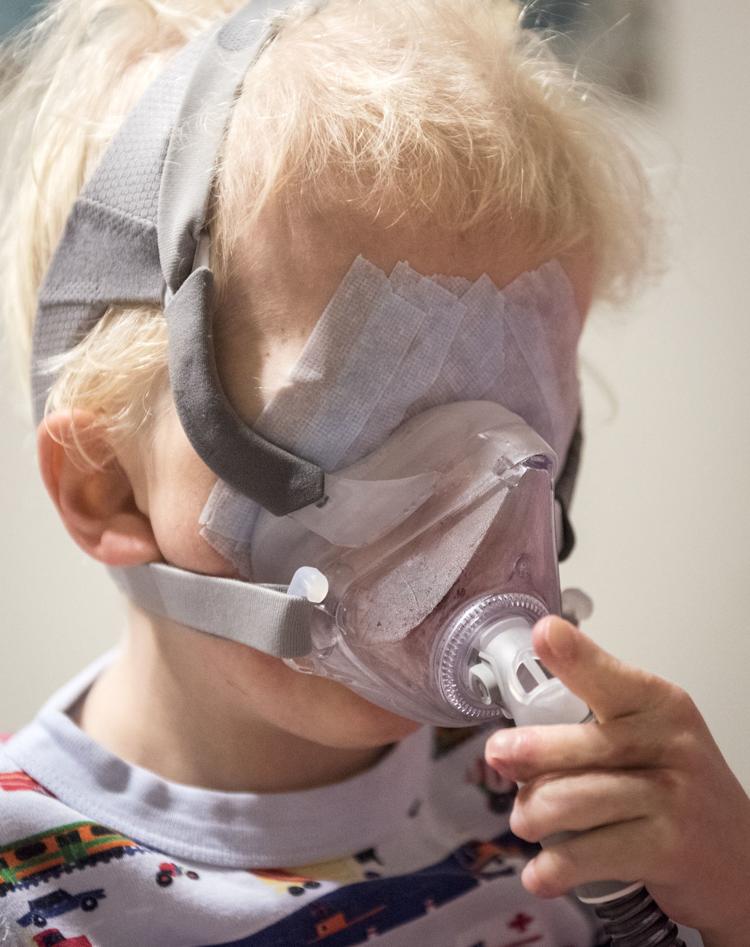 "Let's get this bad boy on!" he exclaims one night to his mom as his eyes were taped shut, but he anticipated what was next without being able to see it.
Cam calls it his firefighter mask. The hose to the machine is attached to the front and his voice is almost inaudible, mostly muffled. But you can still hear him tell his mom "goodnight," "I love you" and ask for a stuffed animal or two to hold onto while he sleeps.
The costs of Apert syndrome
Apert syndrome can be emotionally challenging for families and financially draining. Costs for the ointment, CPAP machine and special tape, as well as medical procedures, add up quickly.
For the first 11 months of Cam's life, they were able to qualify for Medicaid. But once Jessica started working again and they were taking Cam out of state for the bulk of his medical care, they got him his own private insurance.
Most of his medical bills are covered by the plan, but the family still has to pay 30 percent. And after multiple surgeries, prescription medications, travel to and lodging in Boston and that special tape — one roll costs $9 and it doesn't even last a week — it gets expensive.
"Cost-wise, syndromes like this where you're looking at 20, 30-plus surgeries in a lifetime it's going to reach a high number," she said. "It's definitely gotten that way with Cameron."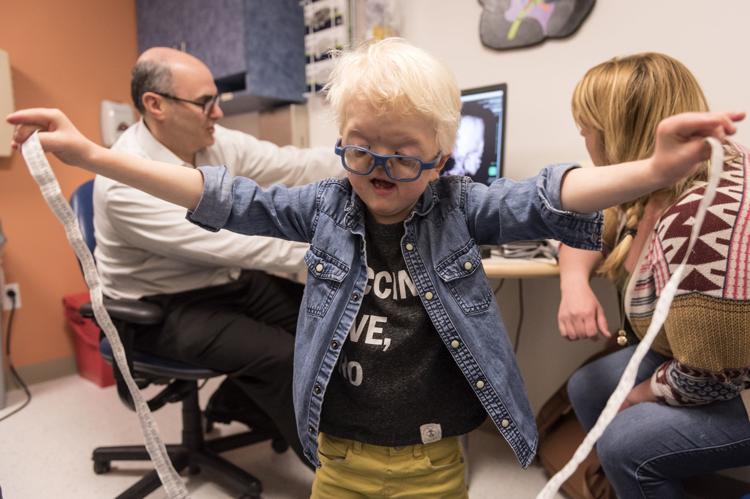 Fortunately, Jessica said they've had a lot of help. At Boston, she said they're flexible with payments.
And even though it may be expensive, the bills may add up and traveling there adds to that debt, it's worth it. Jessica said they will settle for nothing but the best.
"We've been so fortunate that we have such a good, strong community and support group that we're able to take Cameron to Boston, because that's the place that he gets the very best care and he absolutely deserves the very best care," she said. "And I wouldn't go anywhere else. I will do whatever I have to do to make sure that he gets that care."
When they were still living in Boone, friends would put together fundraisers like spaghetti dinners and invite the community to help raise money to cover some of their medical bills. At each one, they could pull in anywhere from $1,000 to $1,200 to put toward medical bills.
And recently in Winston-Salem, Jessica and some friends were able to organize a 5K run and walk fundraiser in January that raised $6,400.
It also served as a way to get the word out in Winston-Salem about Cam and Apert syndrome.
"Getting the word out and making Cameron someone who someone has at least heard about is just my heart and that's my passion, so it was really, really cool being able to do that and being able to spread that message and to talk about Cameron and to let people know about him and who he is," she said.
Progress beyond medicine 
Like most kids, Cam becomes restless almost immediately the moment he sets foot in a hospital waiting room.
As they wait at Boston Children's Hospital to see Upton, Cam takes it upon himself to be the floor's designated "elevator caller."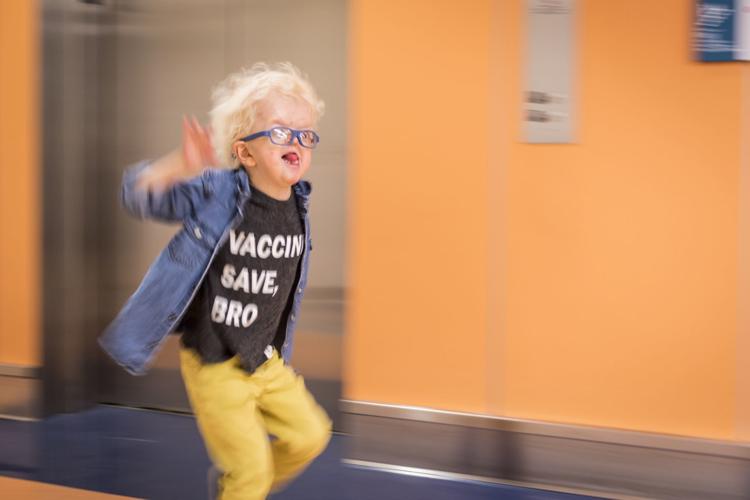 The first thing anyone walking out of the elevators to this floor and section of the hospital see or hear that morning is Cam waving them out onto the floor, with an enthusiastic "Hi!" and "Goodbye!" in almost the same breath as he directs traffic.
If someone pushes a button to call an elevator — unless he gets there before them to mash the button near his eye level — Cam will promptly tell them which set of doors will open, usher them to the doors and sometimes hold them open, making sure his passengers get to where they need to be in a safe and timely manner.
His smile and efforts are infectious. A few people tell Jessica that Cam made their day that rainy Friday morning in March.
Cam's action that morning demonstrate he is a personable, social kid. He's also smart.
One of the common misconceptions of Apert syndrome is that it's a mental disability.
Both Upton and Meara said for a long time, people associated Apert and other craniofacial syndromes with learning issues.
Those perceptions have changed over the past 40 years.
Kids with Apert syndrome, Upton said, were treated as though they had mental disabilities. Many years ago, he added, it wasn't uncommon for the children to be institutionalized.
"Many of these kids are very smart," Meara said. "I think Cam is a very smart little guy, and so one of the misconceptions is that there are always cognitive issues and there just aren't."
Just about anyone who has met Cam will say he is bright kid. His teacher at South Fork Elementary last year, Diane Sperber, would agree.
"I just think he's a great kid," she said. "He's so funny. He's fun to have, and I just love him."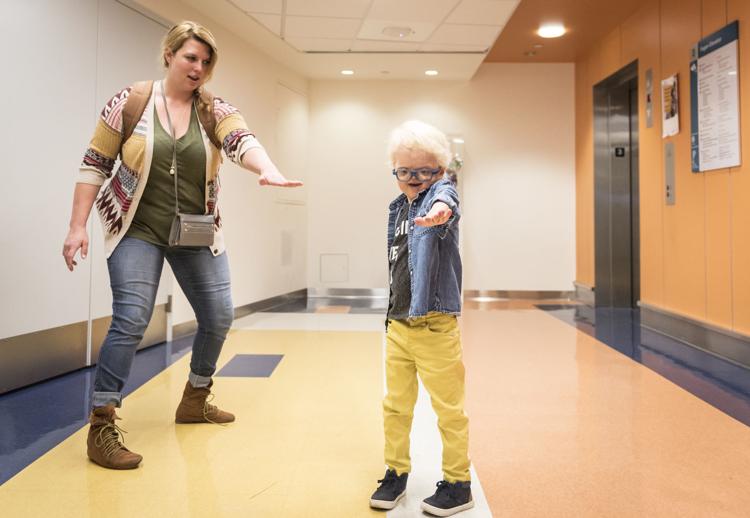 Overall, there is a better understanding today of Apert syndrome. And since Cam's birth, more medical options and advancements to treat it have been developed.
Meara said there is now an endoscopic procedure that can be done at a very early age that can give children with the syndrome a more "normalized" head shape.
"One of the problems early on is in the first year of life your head grows very rapidly. So in the Apert kids, their sutures fuse and their heads grow in an abnormal way, and that's why they have an abnormal head shape," he said. "And when that goes on for the first six … (to) 12 months of life, then you're dealing with a much more severe calvarial, or skull, deformity. And one of the innovative things that we've done is very early we're doing this endoscopic procedure."
'Different ... not less'
Morning routines have gotten easier for Cam.
Since going on the CPAP machine earlier this year, he sleeps through the night and is well rested by morning.
So well rested, in fact, it's not uncommon that he's up and ready for the day before everyone else in the household.
As the morning light is starting to cut through the windows in the house, Paul helps him and Max get ready for the school day. Jessica works as a case manager for homeless shelters and sometimes works overnight.
So on those following mornings, it's Paul, who works as a foster care family recruiter, getting the boys ready for the day.
They first take Max to the Children's Center, the same school Cam attended when he was in kindergarten. They've made sure to put Cam in the EC program that best fits his needs each school year. First it was Children's Center, then Ashley Academy for Cultural and Global Studies, and now South Fork Elementary School. He'll be there in third grade, too.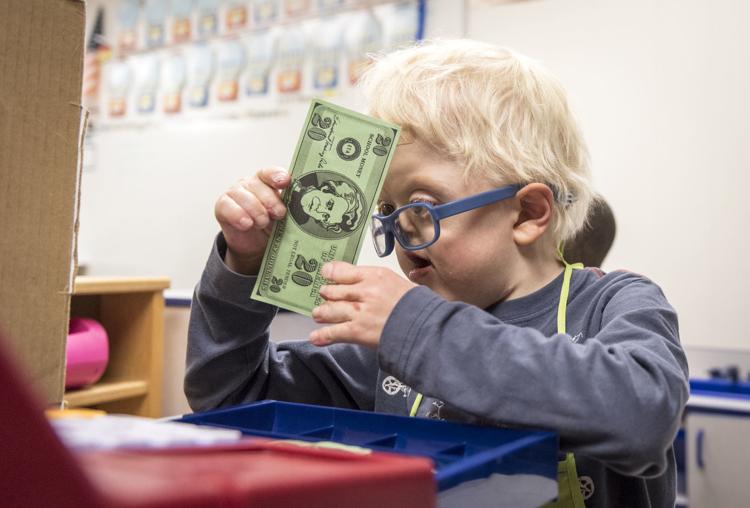 They've dropped Max off at the front of the school, and are walking back to the car. But Cam is distracted, staring at a few parked school buses.
He's so transfixed by the big, yellow buses that his dad has to call him back to the car a few times before he gets his attention. When Cam goes on a field trip, Paul said they'll ask him what his favorite part was. And every time. without fail, Cam's answer is the time he got to spend on the bus.
Cam loves school buses, but that scares Paul.
He said he remembers that kids, especially in middle school and high school, can be mean.
And with Cam's condition, Paul and Jessica have their concerns.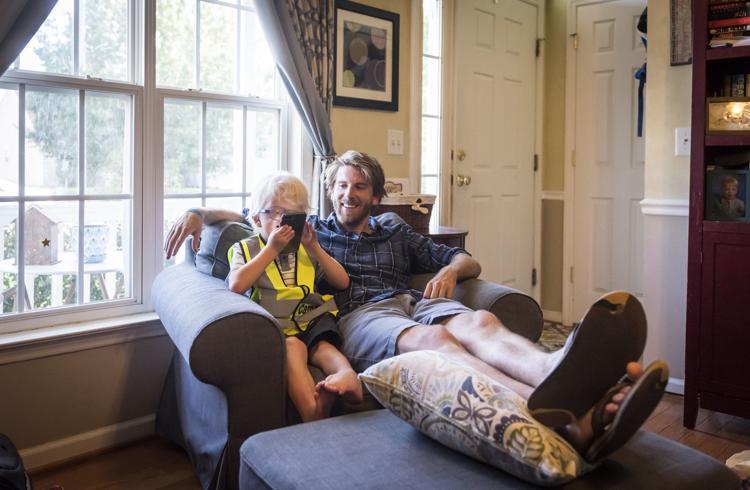 When Cam was a toddler, Jessica was fearful.
Trips to the grocery store with Cam meant lots of stares.
Kids have pointed at Cam, mocking his physical appearance or loudly asking their own parents why Cam looks the way he does.
They've even heard kids use the word monster when referring to Cam, specifically about his eyes, Paul and Jessica said.
"Often times, especially when we're in public, kids are genuinely curious and Cameron looks different," she said. "Kids like Cameron look different, visibly, quickly. It's not a small thing that you might notice after you've met the person and talked to them. It is very easily noticeable. And sometimes, kids have no filter."
Part of her effort to spread awareness about Apert syndrome is a kindness component, letting others know that just because someone looks different from you doesn't mean they don't deserve the same level of kindness and respect.
"That is my entire passion in life is to just create that acceptance for difference, and that kindness base that yeah, maybe you're unsure of something, maybe someone doesn't look like you or doesn't look like your friends but that doesn't mean that you can't be kind about the way that you talk to them," she said.
But Jessica has also worked to create something she did not have as a worried, soon-to-be, first-time mother who just learned about a condition her child had: a source of comfort and information.
Coupled with the growing awareness and knowledge of Apert syndrome and her own natural desire to help others, Jessica has been in contact with moms and families across the country and often runs into familiar faces when in Boston.
And with social media, there are plenty of ways for people in families with Apert syndrome to connect to others looking to give or receive advice.
"That is powerful, and I think that could be lifesaving for some families," she said.
The road ahead
March was not the last time Cam will go to Boston.
Although he's had 15 surgeries already, there are still more procedures he'll need to go through. It's likely he'll be back before the year is over to see Upton. 
The biggest one coming up is a midface procedure, commonly done when the patients are a little older and their skulls are more developed.
The procedure will help bring that portion of the skull forward, which for Cam will provide a little more protection around his eyes and help open his airways a little more.
Meara said many people who have Apert syndrome go on to live normal, healthy lives.
"I think ultimately these kids can go to school, they can have a job, they can have a normal, productive life," he said.
"We have a number of our Apert patients who are in college and have jobs, etc. So, this does not mean that they can't grow up and have a great life with schooling and workplace, etc."
It's late June, in Winston-Salem, and Cam and Max are signed up for a summer camp at Mount Tabor United Methodist Church — a music camp.
One Thursday evening, they're performing songs they learned at the camp, and families of all the kids involved fill the first few rows of pews to watch them perform.
Paul and Jessica are sitting toward the back of the bunch, with their eyes on Max to their right, and Cam, who is front and center of the group. His glasses make him pretty easy to spot in a crowd.
Every parent, grandparent and relative watching is beaming as their kids perform, but there's something different and unique about the way Paul and Jessica are watching theirs.
Eight years ago, they didn't know what to expect with Cam right before he was born or what the first few years would be like. With all the surgeries and twists and turns in those early days, seeing how he's doing now has offered some relief.
"You never know at the beginning, but he's going to be fine," Paul said. "When you look forward, he's going to be fine."
It's incredibly comforting to them, knowing that while there have been chaotic, stressful years in the past and uncharted territory still lies ahead, that there's so much more to look forward to in Cam's life.
"I'm just anxious about my children's future and you always think about how are they going to do when they get out in the world on their own," Jessica said. "How are they going to be perceived and how are people going to treat them when no one is around to protect them?"
It's heartwarming to see Max and Cam standing together with a group of kids in the bright halls of the church building.
And in this moment, to see Cam up there participating, socializing and synchronizing with the movements and hand gestures to the songs is all they could want for their firstborn — a happy childhood.