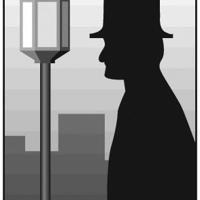 TODAY'S WORD is repast. Example: Following the service Sunday, during which Brother Claude will preach and the Harmonizing Sisters will sing, a repast will be served in the fellowship hall.
THURSDAY'S WORD was gamut. It means the full range or content. Example: Dolois ran through the full gamut of emotions Thursday, when after she left the courtroom from an acrimonious divorce she got news that her daughter was expecting a baby — the first grandchild — and then her numbers came up in the lottery, making her rich.
Today's chuckle
While scrolling through Facebook the Stroller came across this joke (paraphrased here), shared from "Amazing Things Daily" on Oct. 4.
Someone was chatting with an 80-year-old woman who just had gotten married for the fourth time. He asked her questions about her life, about what it felt like to be married again at 80, and then about her new husband's occupation.
"He's a funeral director," she answered.
"Interesting," said her companion, then asking her to tell a little about her prior husbands and what they did.
She first married a banker, when she was in her 20s, she said. Then it was a community theater director, while she was in her 40s, and finally a preacher, when she was in her 60s. "I married one for the money, two for the show, three to get ready and four to go," she said. 
Breakfasts Saturday
Axton Lifesaving crew will hold a community breakfast at 8-10 a.m. Saturday, at the squad building. On the menu are eggs, bacon, sausage, apples, hashbrowns and biscuits and gravy. The price per breakfast will be by donation.
Fairystone Volunteer Fire Department will have a country breakfast at 6:30-10 a.m. Saturday at the department's building at 6687 Fairystone Park Highway in Stuart. The menu will feature pancakes, gravy, country ham, baked apples, sausage, homemade biscuits, bacon, eggs, coffee, orange juice and water. The price is $7, with half price for children. Take-out orders may be called in to 276-930-2113..
First Presbyterian Church, 1901 Patrick Henry Ave., will host a free community meal at 8-9:30 a.m. Saturday.
… and lunch Saturday
Smith Memorial United Methodist Church, corner of John Redd Boulevard and Daniels Creek Road, will have a barbecue chicken dinner from 11 a.m. to 2 p.m. Saturday. Each plate will have half a chicken, a baked potato, coleslaw and a roll. The cost is $9 for a meal, or $8 for each meal when bought in groups of four or more.
THURSDAY'S TRIVIA QUESTION: Every time you turn around, it seems like, there are more and more words to refer to people's sexual orientation, such as "trans," "bigender," "LGBT," "FTM," "boi" -- and "cisgender," which the Stroller didn't recognize and had to look up in the dictionary. Merriam-Webster Dictionary's definition for "cisgender" is "of, relating to, or being a person whose gender identity corresponds with the sex the person had or was identified as having with birth." It sounds to Stroller like "Cisgender" is the new word for "straight" — although, perhaps, saying "straight" may not be politically correct anymore? (The Stroller means well but sometimes has a hard time keeping up.)
TODAY'S TRIVIA QUESTION: Which two areas of land does the Strait of Magellan separate?