Martinsville Speedway has a ton of history. The best of the best have raced at the "Half-Mile of Mayhem," a track that has provided fans and racers alike finishes to be remembered for a long, long time.
Race fans young and old all have memories of one of the few remaining NASCAR short tracks. This weekend, in advance of Sunday's STP 500, Cup Series drivers took a trip down memory lane to talk about their favorite moments at The Paperclip.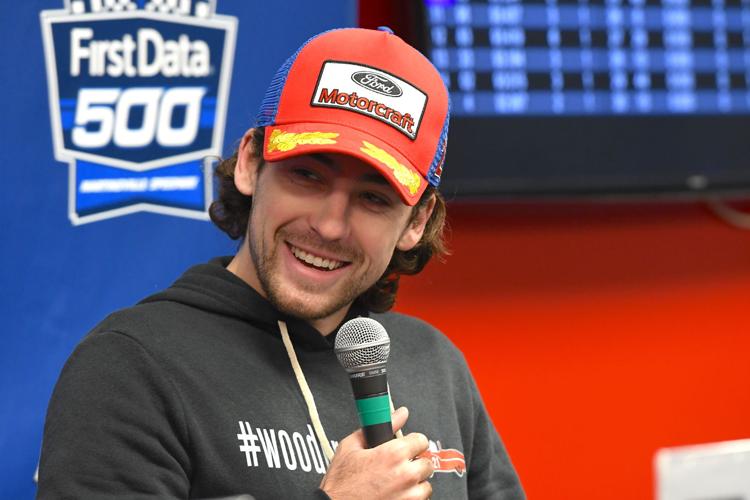 Ryan Blaney drove for Wood Brothers Racing in 2015-2017. Coming to Martinsville as part of the Stuart-based team carries a lot with it, including incredible support. Even though he left the Wood Brothers to race for Team Penske a year ago, Blaney still feels that support when he comes to Martinsville.
"A lot of memorable stuff for me was racing for the Wood Brothers here," Blaney said. "That was really special. That was pretty cool. Having a lot of the Wood Brothers' support still when I come back here, that definitely means a lot. That's always been special ever since I made my first start for those guys here, and it's just carried on throughout the past couple years, which I think is really special.
"I think all the Wood Brothers memories I have here and then carrying over to this year, and last year, of all the fans that still watch you and support you is pretty cool."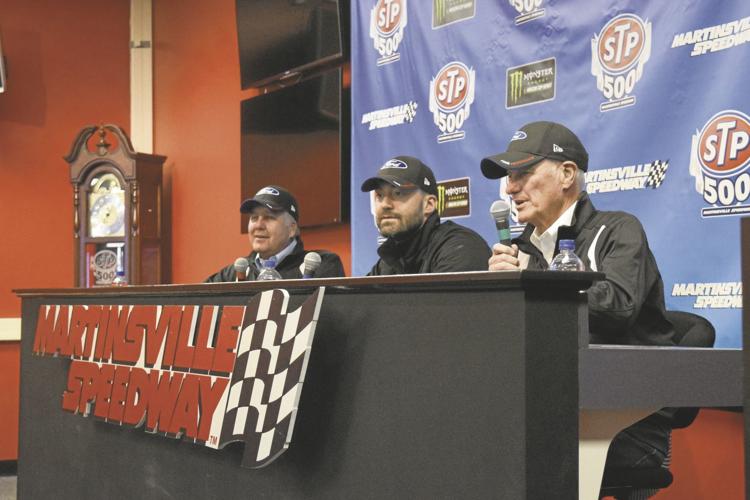 The current driver for Wood Brothers Racing is Paul Menard. He also feels that support of driving for the local team, but most of his career racing at Martinsville has been for other teams, so he recalls being in battles each and every time he races here.
"Every time you go there something happens," Menard said. "Obviously the snowstorm last year was pretty amazing and getting to race around the snow banks.
"You get into the race at Martinsville and it doesn't matter if you're fifth, 10th or 25th, things just happen it, and it happens quick. I compare it to almost like a speedway like a Daytona or Talladega. Even though we're going half the speed you're just surrounded by cars constantly. There's always a car in front of you, always one behind you, and you're up on the wheel every single lap trying to make moves, trying to make passes, and trying to not tear up your race car. That never changes. Every time you go to Martinsville it's always just an intense 500-lap battle."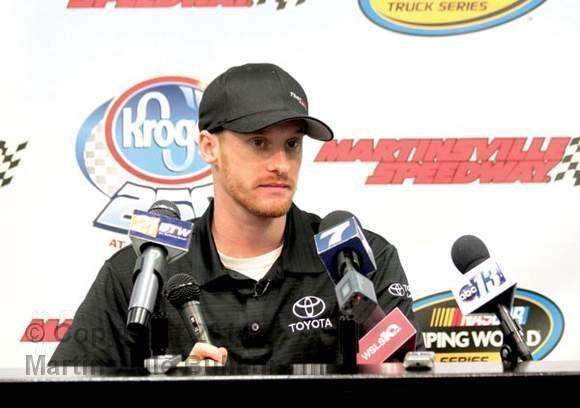 A Halifax native, Jeb Burton grew up loving Martinsville Speedway. The year 2013 was a nearly a dream come true for Burton when he set the track record in qualifying for the Truck race before coming away with a third place finish.
"We had a really good truck and finished third twice here that year," he said. "It's my favorite trick. Hopefully we can come back here and win one day in the Cup Series and the Truck Series."
Ty Dillon has been around racing his entire life. Before reaching the Cup Series, Dillon would watch races from the stands, and if his family's team won he got to be in Victory Lane. That was the case in 2006, the last time the Xfinity Series raced at Martinsville. Dillon recalled Darrell Waltrip participated, Kevin Harvick won and Clint Bowyer came in second.
"I sat in the middle of (Turns) 1 and 2 with a friend and ate hot dogs and watched the whole race," he said. "I was driving maybe legend cars at the time and our cars won the race. It was a great time. I got to go to Victory Lane. That was my earliest memory and probably my most keen memories sitting in 1 and 2, which is what I would say is my favorite spot because you don't have to move your head."
Sometimes a driver's first time at Martinsville isn't with NASCAR. Aric Almirola drove late models before reaching NASCAR in 2005, and remembers the first time he drove in to Martinsville Speedway in advance of the iconic late model race.
"I thought it was so cool. That was the first time that I'd ever raced at a NASCAR race where the Cup cars raced," Almirola said. "I just remember, you know, driving in with the truck and trailer and crossing the track and thinking, 'Aw man, this is awesome. We're here. This is where the big boys race,' and just feeling so amped up and excited when we came to the late model race that they run here... I thought it was so cool. 
"It's an amazing event. At the time they were getting 250, 300 late models to make a 40-car field and so yeah it was really cool and really exciting to come to those events."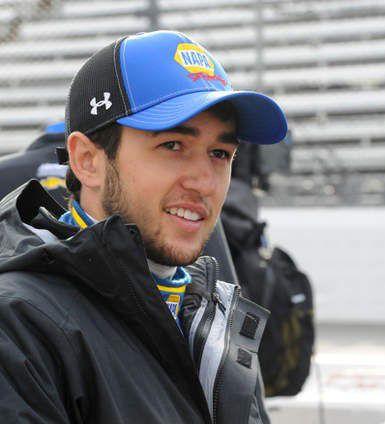 Martinsville isn't the easiest place to make a Cup Series debut. Chase Elliott had his debut at The Paperclip in 2005, finishing 33 laps down after crashing in the middle of the race. It was still a memorable day, though.
"I made my first start here, so yeah I'd say that's the coolest thing I've done here at this race track," he said. "I remember a lot about it. I was struggling a lot with Martinsville. It's not an easy place to get around by any means."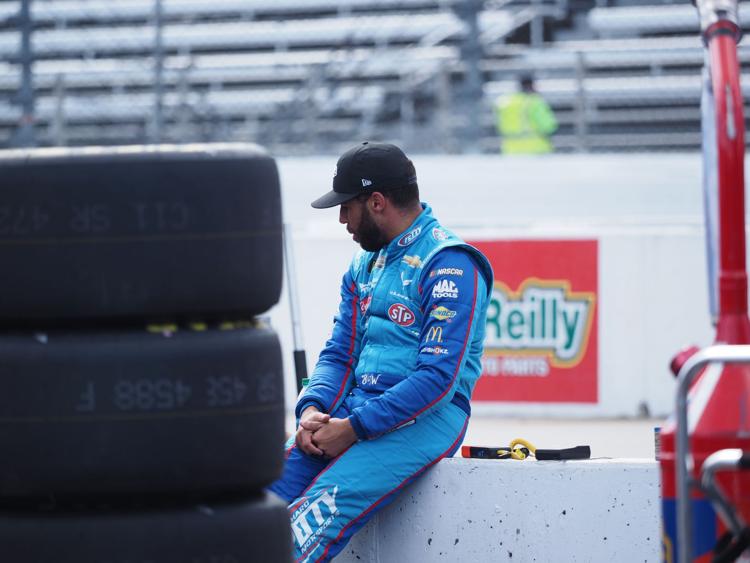 Prior to Saturday's Truck Series race, Bubba Wallace raced a truck at Martinsville four times, winning twice, before making the move to his current spot racing for Richard Petty in the Cup Series.
"That's two wins," Wallace said. "Nothing beats that."
There have been some really entertaining finishes at Martinsville in recent years. The fall race of 2017 was as dramatic as it gets. Denny Hamlin and Chase Elliott stole the headlines for a crash in Turn 4, but neither ended up winning that race. That race winner was Kyle Busch.
"It was memorable for me, but probably not as memorable for other people," Busch said. "Our win just a couple falls ago was pretty special for us. We had our chance to go to (the NASCAR championship at) Homestead because of that victory, but there were some fireworks and some other sparks that were happening in the finish of that race as well with the 11 and the 9. It was a very memorable day for a lot of different reasons for a lot of different guys, but one for us that we could win this race and go to Homestead."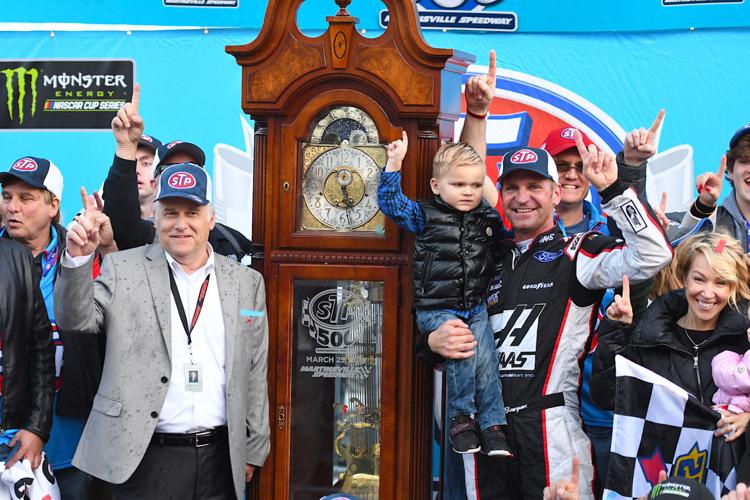 The spring race in 2018 wasn't nearly as dramatic as the fall race of 2017, but it was still a memorable day for Clint Bowyer, who got to bring that famous Grandfather Clock home for the first time.
"It's neat to have a historic trophy in your house," Bowyer said. "It doesn't matter when it happened or how it happened it's a pretty historic place. It's cool to have that trophy."
The fall race of 2018 was another one where fireworks flew. Joey Logano bumped into Martin Truex Jr. on the final turn and used the contact to eke out a win and get his spot at Homestead. He used that win as momentum to bring home the Cup Series championship.
"It's always a very special win, especially first win at a track like this was a big deal, and obviously what it led to was even a bigger deal," he sa