When Jake Arnold started running cross country at Bassett High School two years ago, he and his coach both admit he didn't show much promise at the beginning.
"When I first ran I was terrible," Arnold said with a laugh.
"Yep," Bassett Coach Kevin Underwood echoed from the across the room, adding to the laughs that filled Bassett High School's main entrance earlier this week.
But Arnold didn't let those early struggles in the sport bog him down. Because running became more than just a way to compete and more than a chance to be social with his fellow Bengals.
Arnold, now a senior at Bassett, has autism and was diagnosed with epilepsy in middle school.
On top of the normal stress every high school student faces in the classroom and socially, he also has had to battle a rare form of seizures that are described as extreme panic attacks where he often blacks out.
Those seizures have been worse the past two years, and Arnold said there have been times he has been unable to compete in meets because of it.
"It was bad," Arnold said. "I just had to fight through it and fight through it. It was bad."
When he's out on the course, though, none of those concerns are going through Arnold's mind. Running has provided him an outlet to clear his head and just be another runner.
The sport has also allowed him to focus his energy on something other than life off the track.
"I think it has taken stuff off my mind, and I'm just not worrying about stuff," he said. "I can just take all that stuff off my mind and just focus on something else. Let's say if I was like taking a test, if I got a bad grade or something I can just not worry about it anymore and focus on the future or on something else at our next track meet."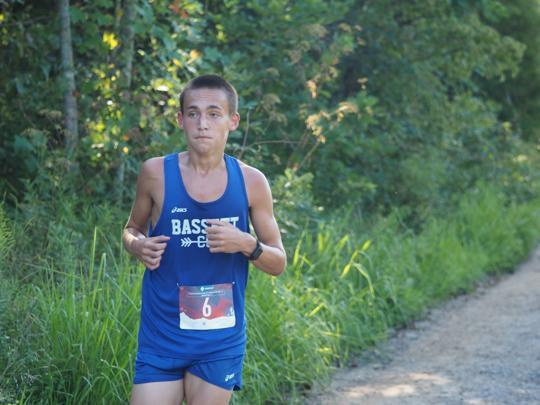 ImprovementsArnold's mom, Brandy, is a cross-country coach at Bassett with Underwood, and the two have been coaching Arnold as a runner for five years.
When Arnold began running in Bassett's program as a sophomore, Underwood said he was somewhere around 38 minutes for a 5K.
Now, just two years later he's nearly 20 minutes faster. In the mile run, Arnold dropped from about 9 minutes to just over 5.
"He's turned into a real runner," Underwood said.
Not just on the track, Underwood said Arnold's leadership has come through this past year.
"He's really been more vocal and grown into a leadership role. He just seems more comfortable with himself with all the things he's been fighting through," Underwood said.
And Underwood said he expects those race times to just get better once Arnold goes to college. While the typical cross-country meet in high school is a 5 kilometers, colleges run a 10K.
Underwood said he's seen at times Arnold would get nervous at the starting line of a race in the big pack of runners and not get out to as good of a start, but with a longer race he can overcome slower starts and pick runners off later in the race.
"His mile splits are always consistent throughout a race," Underwood said. "I'll only see more improvement at the college level… I think that will definitely lend to his strengths."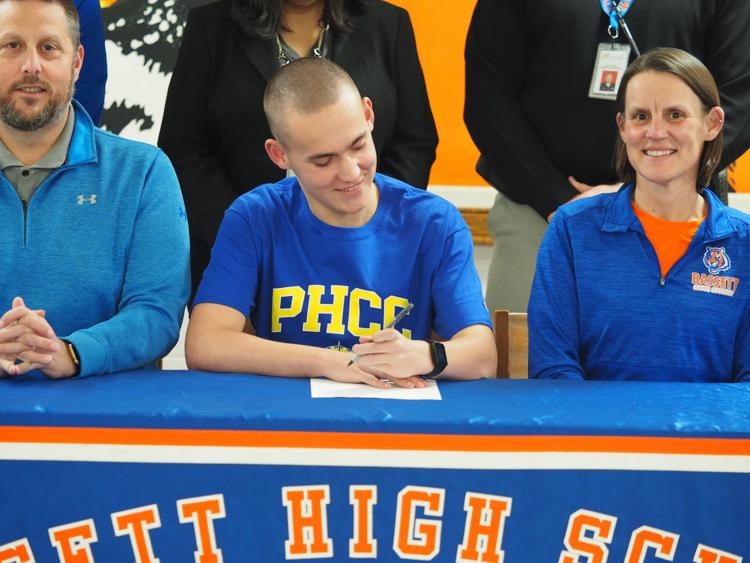 Arnold will go from a Bengal to a Patriot next year, after committing in a ceremony this past week to join the Patrick Henry Community College cross-country and track teams in the fall.
PHCC Coach Andre Kidd said he has been in contact with Underwood for a while about getting more Bengals to join his program, and he began talking with Arnold a few months ago.
"Jake texted me and told me he was ready to sign with us, so we're pretty excited on that end of it," Kidd said. "I think he brings consistency with him. … His work ethic I think is going to help us out tremendously. We're still trying to get numbers so adding another decent runner to our program is going to help us out a lot."
Arnold plans to attend PHCC for a year and then transfer to Ferrum College, where he has dreamed of attending since he was a kid. Ferrum is starting a new track-and-field program that will begin competition in the fall.
While Arnold has always wanted to be a Panther, attending PHCC for a year first will give him a good stepping stone from high school to college and ease the transition for him.
Arnold hopes to study education and history and would like to be one day teach either middle or high school, like his mom.
A bigger goal
Kidd works as a mental health professional, and has seen how activities like running can help people take their minds to another place. Running not only teaches discipline and work ethic, it also gives people something to strive for.
"Whether you're a mile runner, 2-mile runner, whatever your race is, you train for that. And that puts you in the mindset of working towards something," Kidd said. "The same things we teach if running is not your sport but maybe schoolwork is, you're working towards a goal, you want to graduate, you want to succeed in life, that's how we do it."
Arnold's goal was to run at the college level. He ran with that in mind every time he laced up his shoes and headed out on the track.
He often had to remind himself to stay calm and push through pain and other issues, but it was the support of his coaches, friends, and teammates that helped him along the way.
"They've given me a bunch of support throughout the past two years, especially Coach Underwood," Arnold said. "He believes in me, and so does my mom, and they really have for the past two years, and I think they'll believe in me when I'm in college too. And Coach Kidd too. It means a lot."
The family Arnold has had at Bassett is the same atmosphere Kidd builds in his program at PHCC. He has made sure his runners know to look out for and help one another, and that won't change when the new class comes in this fall.
"I think I can kind of teach them and we can all be one big happy family," Kidd said. "We're going to make him feel comfortable, we're going to bring him in and welcome him as one of our own, and I think he's going to teach us some stuff along the way."
Said Arnold: "I think it's amazing. I think it's a dream come true to be honest. To experience the college level. … To run with college kids and different teams and that stuff, it's going to be different. It's going to be really different. It's going to be fun."
Cara Cooper is the sports editor of the Martinsville Bulletin. You can reach her at (276)638-8801 ext. 241.